5 Days Diwali Lakshmi Puja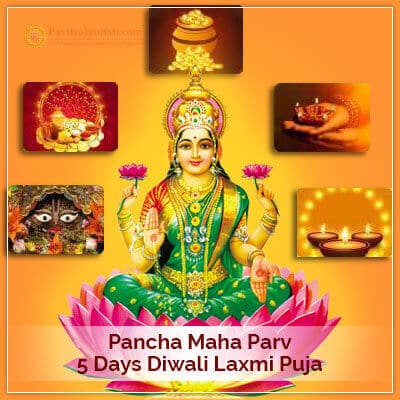 Witness Success And Opulence Growth In Life With Pancha Maha Parva
Pancha Maha Parva Diwali Laxmi Puja (5 Days Detailed Puja)
Diwali is the most popular festival of Hindus and celebrated with great joy with the worship of Mata Lakshmi and Lord Ganesha to embark the new energy with happiness and prosperity in one's life. It is celebrated for 5 days commencing from Dhanteras and ends on Bhai Dooj. Due to its celebration for 5 days, it is known as Pancha Maha Parva. Dhantrayodashi is the first amongst the five festivals. the festival of Dhantrayodashi (Dhan-teras) falls on 2 November 2021 (Tuesday), 13th lunar day of Krishna Paksha of Kartik month.
Avail Pancha Maha Parva 5 Days Diwali Lakshmi Puja 2021 and attain the blessings of goddess Laxmi for peace and prosperity in your life. 5 Days Diwali Laxmi Puja 2021 done by our Reliable and Learned Pandits ensures long term benefit of prosperity and positive transitions in life of the worshipper. Besides, the puja spells a great fortune to your family members and relatives.
Why 5 Days Diwali Lakshmi Puja performed?
5 Days Diwali Lakshmi Puja is considered very auspicious while Diwali Festival and dedicates to Mata Lakshmi. By performing this puja, any negative energies within the home environment gets reduced and one will attain wealth, prosperity throughout a year, fortune increases and improvement in health & financial condition take place.
Important Information About 5 Days Diwali Lakshmi Puja
Puja Name: 5 Days Diwali Lakshmi Puja, Puja Purpose: Blessing Of Maa Lakshmi, Duration of Puja: 6-8 Hours daily, Ideal days for worshipping: Diwali panch parva (5 Days), Activities for 5 Days Diwali Lakshmi Puja: Poorvang Karma, Puja of Mata Lakshmi (as per auspicious Muhurta), Ashtottara Namavali Path, Lakshmi Stotra path, Homa (Havan), Mata Lakshmi Prayer. Important: We will send Puja Images at your registered email, Assurance: PavitraJyotish assure you best puja according to shastra, Special For You: Special and powerful gift.
What we will do?
1. Once you have booked the Puja, you will receive a booking confirmation mail.
2. You will be informed by your registered email, when your puja will be organized and what to do on the day of the puja yourself.
3. After Confirmation, we will worship (Ritual) for you according to Muhurta.
4. After Puja completion, we will send your siddh Yantra (Free Gift) and Prasadam through courier or by post.
5. Open the parcel, read our instructions and wear the siddh Yantra or establish siddh yantra on your worship place.
Benefits of Pancha Maha Parva 5 Days Diwali Lakshmi Puja (From 2nd November 2021 To 6th November 2021):
1. Worship of Panch Maha Parva Diwali during 5 days Goddess Laxmi fulfills one's wishes.
2. Eradicates the poverty and makes one rich and affluent.
3. Weak placed Venus in one's horoscope or Kundali gets strengthen to provide you the positive results.
4. Mata Lakshmi blesses her devotes with abundance of wealth, prosperity and peace.
5. Person undergoing with any malefic planetary period, gets the divine blessing of Mata Lakshmi to get the gains.
6. During this Puja, Lord Ganesha also blesses one to get "Riddhi" and "Siddhi" in life.
7. Spiritual and materialistic improvement happens.
8. Success in your chosen career, business or desired endeavors.
9. She blesses her devotees with Saubhagya (fortunes) and Samriddhi (prosperity).
10. It improves the relations in your surroundings.
11. Marital bliss and happiness at home get increased.
12. Any unfavourable transit's energy gets neutralized with the blessings of Lord Ganesh and Maa Lakshmi.
5 Days Diwali Lakshmi Puja Muhurta
1st DAY PUJA –  Dhantrayodashi/Govatsa Dwadashi Opens The Doors Of Monetary Gains
Like every year, the festival of Dhantrayodashi (Dhanteras)/Govatsa Dwadashi, falls on 2nd November 2021 (Tuesday), Pradhosam of Kartik Krishna Paksha.
Muhurta:  Dhanteras Puja Muhurta = 06:16 PM to 08:11 PM.
Duration = 01 Hours 55 Mins.
Trayodashi Tithi Begins – 11:31 AM on 2nd Nov 2021
Trayodashi Tithi Ends – 09:02 AM on 3rd Nov 2021
2nd DAY PUJA – Choti Diwali
Second of the five maha parvas is the occasion of Choti Diwali, which is celebrated every year on the fourteenth day of Krishna Paksha in the month of Kartik. The festival of Choti Diwali is on Chaturdashi of Kartika Krishna paksha on 3 November 2021 (Wednesday).
Muhurta: 11:39 PM to 12:31 AM, Nov 04
Duration: 00 Hour 52 Mins.
Chaturdashi Tithi Begins – 09:02 AM on 3rd Nov 2021
Chaturdashi Tithi Ends – 06:03 AM on 4th Nov 2021
3rd DAY PUJA – Deepawali Worship Brings The Grace Of Goddess Lakshmi (Diwali Poojan)
The most important of the five major festivals is the Deepawali for Goddess Lakshmi. It is celebrated on the Kartika Krishna Paksha Amavasya with love, devotion, and faith. The festival of Deepawali will be celebrated this year on 4 November 2021 on Thursday, Amavasya of Kartika Krishnapaksha all over India and throughout the world.
Muhurta: Diwali Puja Muhurta 06:09 PM to 08:04 PM.
Duration – 01 Hour 56 Mins.
Pradosh Kaal – 
05:34 

PM

 

to 

08:10 

PM
Vrishabha Kaal – 
06:09 

PM

 

to 

08:04 

PM
Nisheeth Kaal Muhurta Timing: 12:39 
AM
to 
02:56 

AM

, Nov 05
Mahanisheeth Kaala Muhurta Timing: from 11:39 PM to 12:31 AM, Nov 05
Amavasya Tithi Begins – 06:03 AM on Nov 04, 2021
Amavasya Tithi Ends – 02:44 AM on Nov 05, 2021
4th DAY PUJA – Annakut Govardhan Poojan
This is the fourth important festival of Pancha Parva known as Annakut Govardhan. There are plenty of references to the excellence in education and spirituality of Indian people in the ancient texts of Vedas. The whole of India performs Govardhan puja and Gau puja on Kartik Shukla Pratipada. This year it will be celebrated on 5 November 2021 (Friday).
Muhurta:  
Govardhan Puja Pratahkala Muhurat – 06:36 AM to 08:47 AM
Duration – 02 Hours 11 Mins.
Govardhan Puja Sayankala Muhurat – 03:22 PM to 05:33 PM
Duration – 02 Hours 11 Mins.
5th DAY PUJA – Bhaiyya Dooj Or Yama Dwitiya
This is the fifth and very special festival of the Panch Mahaparva which is known as Bhaiyya Dooj or Dwitiya, which falls on the Dwitiya of Kartika Shukla Paksha. Bhai Dooj will be celebrated this year on 6 November 2021 on Saturday.
The festival of 5 days Diwali puja will be held from 2 November 2021 to 6 November 2021.
Muhurta: Bhaiya Dooj Muhurat = 01:10 PM to 03:21 PM.
Duration – 02 Hours 11 Mins.
Activities for 5 Days Diwali Lakshmi Puja
1. Purvang Karma (Ganesh Pujan, MatraPujan, Abhyudaya, Punyawachan, KalashSthapana, Rakshavidhan, Navgrah Puja).
2. Puja of Mata Lakshmi (as per auspicious Muhurta).
3. Ashtottara Namavali Path, Lakshmi Stotra path.
4. Homa (Havan).
5. Mata Lakshmi Prayer and Aarti.
Complimentary Gifts:
Siddh Sphatik Shri ShriYantra.
Online Puja Assurance By PavitraJyotish
Whenever we worship, by speaking the name of the "Yajmaan" or "Devotee" and other details, we do Sankalpa. God is everywhere and he knows exactly who is being prayed for. Therefore, even if you are not present, we can be worshiped for you easily on behalf of "Yajmaan" or "Devotee". If the puja is performed by law, according to Hindu Shastra, it will definitely give results. It's our rich experience of Hindu shastra puja. Through worship, we have solved the problem of thousands of people without being present of "Yajmaan" or "Devotee". By God's grace, you will definitely benefit, we completely believe. Good luck and may Maa Lakshmi grant your all wishes.
We offer a variety of puja-related services, including Puja for Marriage, Asht Lakshmi Puja, Surya Puja, Chandra Puja. Based on your situation or problematic phase in life, you can book our puja accordingly. Assured solution in the form of success and positivity will happen in your life with our puja services.
Info
Puja Schedule:: Within 7 days, According to Muhurta.
The scholars and pundits of Pavitra Jyotish have performed your puja, for amazing and miraculous relief from suffering and alleviate your problems.