2024 Career Report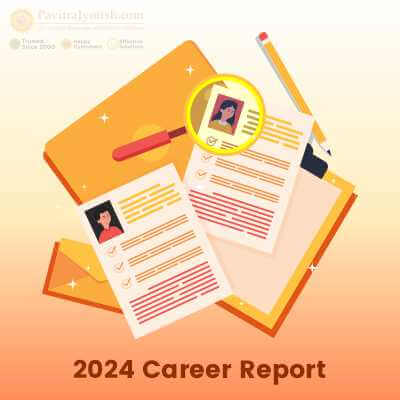 2024 Career Report, A Solution Guide To Every Career Related Problem
The 2024 Career Report is useful for everyone seeking relevant and meaningful career advice in an astrological context. The report lays out every solution to any conceivable problems one may encounter in their chosen professional field. Be it a problem related to career growth or promotion or not getting the desired job, our 2024 Career Report has solutions for everything. Basically, it helps you understand your character strength and whether the job you have right now is compatible with it. Besides, it helps you find the job most relevant to your inner strength and capabilities, something that only astrology can help you figure out. You can call our 2024 Career Report a proper and comprehensive solution guide to build a successful career for you. For more detail, consult our expert.
Important Information About 2024 Career Report
Service Name: 2024 Career Report, Service Type: Astrological Guidance and Solution, Language: English, Service Mode: Online (By e-mail only), Delivery: 5 Days, Features: Guaranteed solutions, Reliable services, Extensive results, and best standard format of PavitraJyotish (YOUR REPORT WILL CONTAIN – Please Read it below), Benefits: It helps you set short and long term goals with the solution of your personal problems positively.
Why 2024 Career Report?
2024 Career Report basically aims to help you make a positive headway in your chosen professional life. Moreover, it is a great astrological guidance for you so that you can make an informed decision about your career and achieve desired success in it. The report contains a variety of methods or remedial measures as well intended to help you grow in your chosen career.
How Does It Work?
1. Share your birth details and ask about your queries/problems.
2. Make the payment.
3. We will send an email for re-confirmation of your birth details through your registered email id.
4. After confirmation, within the next 5 working days, we will provide a detailed report as per our standard format and reply to your specific questions (Your Report Will Contain – Read it below).
5. You will receive your personalized report at your registered email id.
6. Read your report, and feel free to contact us via e-mail if you feel like having any doubts. We will respond to you shortly by reverting your e-mail.
Info
Delivery: 5 Days
Get your manually analysed and Hand-Written report by expert Astrologer.
What 2024 Career Report Will Contain?
1. Astrological Details of your Horoscope chart (i.e. Complete basic information, Ascendant, Rashi, Nakshatra, Placement of Planets, Dasha & Antardasha).
2. Response to your question.
3. Major issue in your horoscope, if any.
4. Career Prospects 2024 as noted from your Horoscope Chart.
5. Detailed report of 2024 in 4 quarters.
6. Lucky measures to benefit to you (Lucky number, days, metal, time, direction and gemstone).
7. Mantra and Puja Remedies.
8. Lucky Yantra and Rudraksha.
9. Important tips to make situations easier for you.

Benefits Of 2024 Career Report:
1. Vital details of your horoscope chart with their respective astrological importance.
2. Answer every question about your career that broaden up your career horizon.
3. Lucky measures based on horoscope to suit your fortune.
4. Powerful mantra/puja remedies for spiritual healing of your individuality.
5. Useful tips/suggestions helping you solve inner-conflicts for better life.
6. You will be confident to take wise decisions since the problems will be handled with ease.

Hear From Our Customers
I would like to share with you that as predicted in your report that Job opportunities can come for me from 19th August 2018 was very true. Your recommended remedies are really very effective. I will be in touch with you for further guidance. I like your website and regularly follow it! Great sir! Definitely, you are not only best astrologer in India also whole the world. Excellent!!!.
Sandeep Sharma, Delhi
In my Career past year, there was no sight of success or positive growth despite working hard and putting my best efforts into job responsibility. Consultation with Astrologer Umesh helped me a great deal with the positive experience especially it did a notable change in my career situation. From Promotion to desired growth, my career was on success, thanks to the prompt and apt counseling of best pandit Ji in India and all over the world.
Romita Agrawal, Indore, MP