2018 Career Report – 30% Discount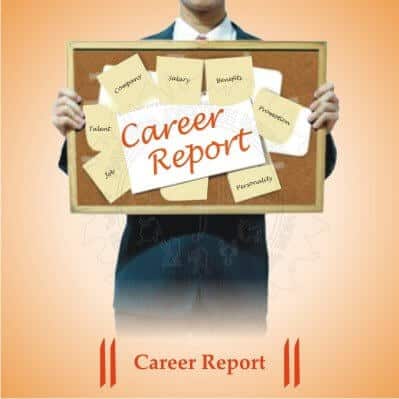 Career horoscope holds utmost importance, reflecting whether your career in 2018 would make a headway or slump. This is a way of knowing your career with the help of 2018 career astrology prepared by our team Pavitra Jyotish. It sums up how your career would turn up for you in the year 2018.
Using the predictive occult science of astrology, our renowned astrologer, Pt. Umesh Chandra Pant, can prepare best astrological foretell known as 2018 career horoscope prediction for you.
Get the detailed analysis of your future career and this involves a least worrisome problem, thanks to our astrologer who is profoundly experienced in astrology. Therefore, his expertise in the matter associated with the predictive science of astrology can provide you for the year 2018 career solutions based on your birth date and horoscope chart.
Major planets shift positions during this year. Viewing this, it is good to know in advance as to how these changes are to affect your career. Is there a possibility of a break or change in assignment is foreseen. Is overbearing boss is to make life difficult for you career front and way to out from this? Pavitra Jyotish prepares a comprehensive personalized 2018 Career Report for you. This report also lets you know about prospects of being promoted, hike in remuneration as well. If seeking a change, the report also dwells on the possibility and right time to change in career for betterment.
Our expert astrologer under the best guidance of Pt. Umesh Ji prepares a 2018 career report in detail for you. Besides detailing about all aspect of a career, guidance about useful remedy is also mentioned. The report suggests optional remedies like wearing a right Gemstone or a Rudraksha or need to have a fully energized Yantra as well. We also suggest Mantra enhance your career prospects. Post your query in this section and we will prepare a detailed 2018 career Report for you.
Info
Delivery : 7 Days
Manually Analysed and Hand-written by Expert Astrologer
Customer Care
If you have any confusion or need further clarification
Call +91-11-26496501
Your Report Will Contain:
1. Astrological Details of your Horoscope
2. Effect of Ascendant and Ascendant lord
3. Effect of Moon Sign
4. Response to your Question
5. Career Prospects as noted from your Horoscope Chart
6. Impact of planets for you in 2018
7. Year in a Nutshell
8. Detailed report of 2018 in 4 quarters
9. Special Observation
10. Summary 2018
11. Accurate remedial measures for your problems
12. Important tips to make situations easier for you

Benefits of this report:
1. You can take smarter calculated decisions, with a clear view of the upcoming situation.
2. The guidelines offered will help you make effective planning
3. Risks in your career progress will be reduced
4. Efforts channelized in the right direction will yield better results

Testimonials:
Panditji Umesh pantji is very patient and suggest very simple vedic solutions which give a lot of peace of mind as well as lost confidence. I got the great help in one of my major problems of life and my belief in astrology have been strengthened. Thank you panditji.
Savita Sharma, Rohini, New Delhi.
It was a nice experience for me , he gives right advises to our problems , his knowledge has helped me anyways.
Arunima Negi, Dwarka, Delhi