Aquarius Monthly Horoscope: July 2017
General planetary positions for the month of July are as follows:
This month on 16th July the Sun will enter Cancer zodiac. Mars will transit in the 6th house on 11th July. Mercury will be in 6th house from 02nd July and in the 7th house from 21st July. Jupiter will continue to move in eighth house as before. Venus will transit in 5th house from 26th July. Saturn will continue to move in the 10th house as before. Rahu and Ketu will transit in Leo and Aquarius respectively.
Career and Business:
In the month of you will understand the importance of career and business matters and you will start witnessing positive results from the first week itself. You will see that gradually you are getting a good name and fame in business. But in the second phase there will be shortage of skilled people so that you can achieve production and sales. You will get things back on track in third week. But hard work is necessary. Don't Wait, Talk to an Astrologer now.
Love and Relationship:
From the first phase of the month itself you will get good support from your siblings and elders. You will be successful in conducting auspicious ceremony in your place. There will be a joyous and jovial atmosphere in your family. But in the personal relations there will be lack of good communication. But it will be sweeter in the third phase of the month which will make you pleased. Get your Love and Marriage Prospects
Finances:
This month you will be prepared to move forward and improve your financial prospects. Though there will be some difficulties in the initial phase. Hence you will talk with a few people in order to gather some money. In the second and third phase of the month your income will be better. You will be more excited towards your works. But in the end of this month you will have to spend extra money in some places.  Check your Finance Report 1 Year
Education and Knowledge:
This month you will be strongly dedicated towards getting a higher position in your studies and related areas. You will see that from the beginning of the month you are trying to arrange some study material. Your preparation will be relatively less than the needed. In the second and third weeks you will be again active in your studies. This will certainly give you some benefits. You will be looked upon as an intelligent person. Resolve your education issues with Education Report.
Health:
From the first phase of July itself you will be able to keep up your health and fitness. But you will need some minor treatment as well which will make you a little uncomfortable. In the second, third and final phases of the month your health will be fine. If we keep aside small things, your health will be positive this month. Your physical abilities and strength will also become better. Improve your health with our Health Report
Remedial Measures:
Performing following remedies would bring success for the Aquarius zodiac.
Chant "Sri Shani Chalisa".
Personal Ask A Question
Personal  Solutions Call on +91 95821 92381 OR  +91 11 26496501 and get more information Is there a personal question that you would want to share and get resolved by someone trustworthy? Is there a confusion regarding an intimate issue, which you would seek a solution to? Empower yourself with such knowledge and allow us to … Continue reading Personal Ask A Question →
Price: ₹ 1155 | Delivery : 48 Hr. Get it Now
2017 Career Report – 30% OFF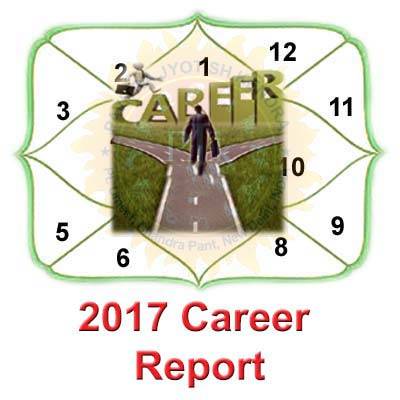 2017 Career Report With the Major Transits in 2017, know the effects of these planets in your Career. Plan your path in a way that causes minimum stress. Make use of this report to know the areas of struggle and plan your year accordingly. If you are looking for a change of job or planning … Continue reading 2017 Career Report – 30% OFF →
Price: ₹ 1399 | Delivery : 7 Days Get it Now