Prashna Kundali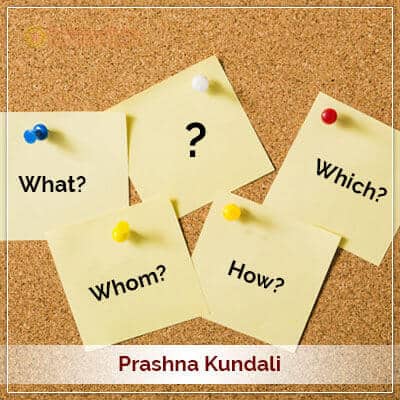 Horary astrologer, also called Prashna Shastra is an important part of astrology. Renowned Astrologer Pt. Umesh Chandra Pant is professionally educated in analyzing and predicting Prashna Kundali based on the astrological analysis of your situation.
The accuracy of prediction done by our astrologer depends on person to person and astrological analysis of their birth chart. Even you are not having birth details, accurate astrological analysis by our astrologer can predict how your life's events will turn out in upcoming years. The meticulous study is done in order to prepare comprehensive horoscope which will give you useful prediction for your life.
Info
Delivery : 5 Days
Get your manually analysed and Hand-Written report by expert Astrologer.
Customer Care
If you have any confusion or need further clarification please contact our customer care.
Call +91-95821 92381 and 011-49901368
Your Report Will Contain:
1. Astrological Details of your Horoscope chart
2. Astrological analysis of your situation
3. Response to your question
4. How to make use of this report
5. Lucky measures to benefit to you (Lucky number, days, metal, time, direction and gemstone)
6. Impact of your Ascendant
7. Impact of Your Moon Sign
8. Current planetary transit and their effect
9. Mantra and Puja Remedies
10. Accurate remedial measures for your problems (Lucky Yantra and Rudraksha)
11. Important tips to make situations easier for you

Benefits of this report:
1. You can take smarter, calculated decisions and plan your times ahead.
2. The guidelines will help you to make the right moves and avoid a possible pitfall.
3. The report will help you to note the time period for possible fructification of your concern.
4. You will be confident to take wise decisions since the problems will be handled with ease. This will help in clear thinking and happier planning ahead.

Testimonials:
I came to know Umesh Ji through Google while searching for names of astrologers in South Delhi. His name popped up and I thought of giving it a try. So, I emailed him with some questions related to astrology. I wanted to know if there was any ending of troubles I was facing in my life. Pandit Ji shared his experiential insights with me, and few remedial measures for my problems. In this Prashna Shastra, I was also able to comprehend astrological nuances and their implications in my life. I owe much thanks to an astrologer for providing me detailed and accurate astro guidance.
Shweta Singh, Gaya, Bihar
I approached Pt. Umesh and we get astrology report. The answers were clear, predictions correct and they even told us the bitter truth. Whatever happened, but I am now relaxed. I will recommend Pt. Umesh
Shyam Sunder, Delhi