Birth Time Rectification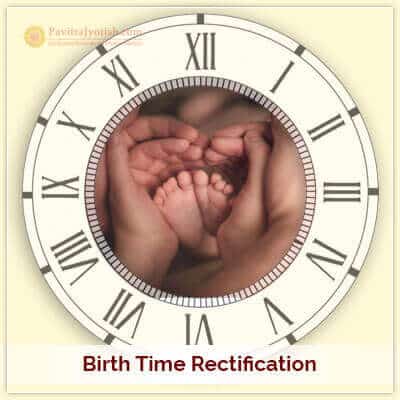 In astrology, the accuracy of predictions largely depends on the natal data or time of birth of an individual. Conflicts in astrological analysis occur when the natal data or accuracy of time of birth is inaccurate. Data such as date, month, and year of birth in the morning/afternoon or at night, and the birthplace are mandatory for making an accurate natal chart.
PavitraJyotish is one stop shop destination for Astrological Services in the matters associated with birth time rectification, best guidance on birth chart and many important things that might be of use in relation to your astrological problems. Not remember a correct birth time? Don't worry. We have the solution to your problem. We are one of the best providing correct Horoscope Reading and birth chart.
Info
Delivery : 5 Days
Get your manually analysed and Hand-Written report by expert Astrologer.
Customer Care
If you have any confusion or need further clarification please contact our customer care.
Call +91-95821 92381 and 011-49901368
Your Report Will Contain:
1. Astrological Details of your Horoscope chart
2. Astrological analysis of your situation
3. Response to your question
4. How to make use of this report
5. Lucky measures to benefit to you (Lucky number, days, metal, time, direction and gemstone)
6. Impact of Your ascendant
7. Impact of Your Moon sign
8. Current planetary transit and their effect
9. Mantra and Puja Remedies
10. Accurate remedial measures for your problems (Lucky Yantra and Rudraksha)
11. Important tips to make situations easier for you

Benefits of this report:
1. You can take smarter, calculated decisions and plan your times ahead.
2. The guidelines will help you to make the right moves and avoid a possible pitfall.
3. The report will help you to note the time period for possible fructification of your concern.
4. You will be confident to take wise decisions since the problems will be handled with ease. This will help in clear thinking and happier planning ahead.

Testimonials:
Pandit Ji was very helpful when we approached to him for rectification in my natal chart. As a matter of fact, it was erroneously prepared due to wrong entry of birth date and its timing. Pandit Ji rectified the suggested mistakes, thus creating a horoscope that defined exactly what a birth chart should be. It details everything based on which accurate predictions were possible. Thanks a lot Umesh Ji for your prompt and cordial solutions.
Ekta Sharma, Rajasthan
I am sharing my views & opinion. I feel that its really true person & always guide in positive direction.
Ashutosh, Gurgaon NCR