Cat's Eye (Lahshunia) 1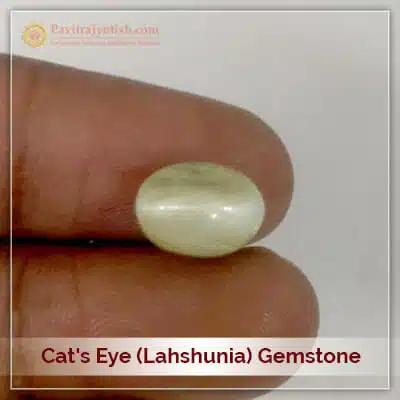 Remove Stress and Anxiety – Cat's Eye (Lahshunia) Gemstone
Lab Certified Cat's Eye Gemstone (Lahsunia Stone Ratna)
Cat's Eye (Lahshunia) Gemstone is linked with a confirmed malefic Ketu in Vedic Astrology. The position of Ketu in kundli signifies about your aspiration of things linked with a particular house and remains in ranting about the same. Like if Ketu is positioned in the fourth house, you can remain in wanting about owning a place to dwell in. Ketu dwelling in the tenth house is to keep you in discomfort in career-related matters. A weak Ketu can lead to low in confidence, not able to take good advantage of encouraging opportunity coming up. You are not able to take right decision when in crisis. If you want to remain confident, take decision timely, able to take full advantage of encouraging opportunity coming your way, wearing energized Cat's Eye (Lahshunia) Gemstone is a must for you. However, consult Renowned Astrologer for guidance on wearing Lahsunia. We at PavitraJyotish.com, offer original lab certified Cat's Eye Gemstone or Original Lab Certified Lahshunia Stone Online at nominal prices.
The Cat's Eye Gemstone represents planet Ketu and it is considered to be a protective stone but this should be worn after consultation with an experienced Astrologer In Delhi. The wearer gets benefits like increase in concentration, protection from enemies and victory over them, the welfare of children and increased activity of mind.
Product Information For Cat's Eye (Lahshunia) Gemstone
Product Name: Cat's Eye (Lahshunia) Gemstone, Colour: Green, Shape: Round, Weight: Approx. 6 Carat, Origin: Sri Lanka (Ceylon), Quality Effects: Energized by Scholar Pundits, Treatments Applied: Unheated and Untreated, Gemstone Type: Lab Certified, Certification: Authentic Lab Certified, Ideal For: Bracelets Or Necklace Or Ring, Usage/Application: Wearing method provided to you with Gemstone, Brand: PavitraJyotish, Packaging Type: Box, Guarantee: Best Quality Gemstone With Assurance of PavitraJyotish.com.
How Does It Work?
1. Share your gemstone energization (puja) details, your wishes, complete address with postal pin code and phone number for dispatching authentic and 100% original Cat's Eye (Lahshunia) Gemstone.
2. Make the payment.
3. Once you have an order for the gemstone, you will receive an order confirmation email at your registered email id.
4. We will send an email for reconfirmation of your energization (puja) details, and your address through your registered email id.
5. After confirmation of your email, we will process your order and make the ring and energize the gemstone according to your best muhurta.
6. After that, we will send the gemstone by post or courier at your mentioned address. It will take 1-2 weeks to process your order for gemstone.
7. After dispatching the product, we will send tracking details of it by your registered email.
8. When you receive a gemstone please confirm through an email.
9. Open the parcel, read our instructions and wear the same.
Benefits Of Wearing Energized Cat's Eye (Lahshunia) Gemstone
1. You gain in confidence.
2. Hindrance in progress gets removed.
3. Progress in work related to research, connecting yourself with divine source.
4. Reduces anxiety, wavering thoughts, mental illness.
5. You are in a position to take full advantage of opportunity coming up.
6. Cordial relations with parents.
7. Cordial relations with higher-ups.
8. You are to remain in a healthy financial position.
9. Way to your progress in spirituality gets cleared.
Weight: 6 Carat (1 Carat = 200 mg)
We have developed a proprietary method to cleanse, energize and attune Gemstone and especially for you. It is based on our deep research and understanding of the Vedas and related astrological scriptures.
We are famous for offering a variety of productive astrological products, including Yellow Sapphire (Pukhraj) Gemstone, Diamond Gemstone, Zircon, Opal Gemstone. Buy them at the most affordable price.
Info
Delivery: 2 Week
Outside India an additional shipping and handling cost of USD 30