Sri Muhurta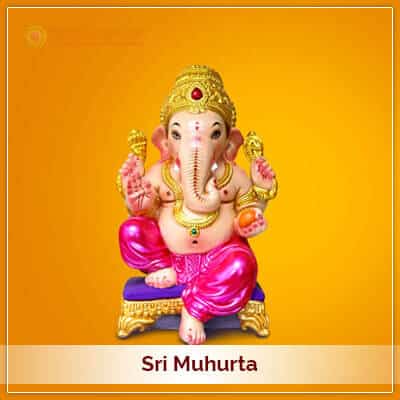 Find Your Lucky Time To Initiate Good Work Through Astrological Way
Sri Muhurta is dedicated to Muhurta or an auspicious time to initiate any new work in life. At PavitraJyotish, we help you with precise calculations to note the auspicious time for coming events in your life based on the study of your natal chart. It includes the study of planetary alignments in birth chart along with the suitable astrological remedial measures to reduce the malefic impact of any planet.
Why Sri Muhurta?
Sri Muhurta is basically the report prepared for the auspicious time to let event happen. If you also need any auspicious time to initiate any important work in your life such as a wedding, opening any business or shop or anything, then Sri Muhurta Report prepared by the Best Astrologer In South Delhi is the perfect guide for you.
We provide you Horoscope Dosha and Remedies, Janampatri, Remedial Solution for Personal Issue, Horoscope Reading and other astrological services. The purpose of these services is to make your life blessed with positive success and growth.
Info
Delivery : 5 Days
Get your manually analysed and Hand-Written report by expert Astrologer.
What Sri Muhurta Report Will Contain?
1. Astrological Details of your Horoscope chart (i.e. Complete basic information, Ascendant, Rashi, Nakshatra, Placement of Planets, Dasha & Antardasha).
2. Response to your question.
3. Lucky measures to benefit to you (Lucky number, days, metal, time, direction and gemstone).
4. Mantra and Puja Remedies.
5. Lucky Yantra and Rudraksha.
6. Important tips to make situations easier for you.

Benefits Of Sri Muhurta
1. You can take smarter, calculated decisions and plan your times ahead.
2. You will be confident to take wise decisions since the problems will be handled with ease. This will help in clear thinking and happier planning ahead.
Hear From Our Customers
The marriage of my daughter was scheduled on December past year. I was worried as to auspicious beginning of the marital ceremony. We consulted a lot of Pandits, but the one who came to our rescue in time of great needs was none other than Pandit Umesh Chandra Pant Ji. He not only suggested an auspicious day to begin with the ceremony for my daughter but also suggested astrological solutions related to Mahurtra. Thanks a lot Pandit Ji for your help.
Amrinder Singh Luthra, Chandigarh, Punjab
I was suggested to seek a solution to my problems by Astrologer and consult Pt. Umesh Chandra Pant. I followed his advise and was suggested to pooja of Sfatik Sri Sri Yantra and other vedic astro remedies by the astrologer. This proved to be extremely helpful. My business is recovering and my financial situation has also improved. I have a high regard for astrologer Umesh, who helped me in my tough times. I can never forget his contribution.
Rajeev Hasija, Malviyanagar, Delhi