Wedding Horoscope Report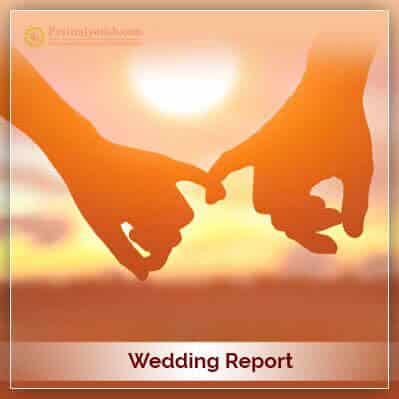 Know What Astrology Says All About Your Marital Status
Wedding Future Analysis, Marriage Horoscope Prediction
Wedding Horoscope Report enables you to understand the good and bad traits about you and your partner and how to overcome them followed by your married life, Progeny, challenges, marriage date, etc. This all can be easily known at one goal by ordering our Wedding Horoscope Report prepared by our skilled astrologer based on your birth chart analysis, Dasha pattern and current transits.
Important Information About Wedding Horoscope Report
Service Name: Wedding Horoscope Report, Service Type: Astrological Guidance and Solution, Language: English, Service Mode: Online (By e-mail only), Delivery: 5 Days, Features: Guaranteed solutions, Reliable services, Extensive results and best standard format of PavitraJyotish (YOUR REPORT WILL CONTAIN – Read it below), Benefits: It helps you settting short and long term goals with solution of your personal problems positively.
Why Wedding Horoscope Report?
Wedding Horoscope Report is good for the people wanting to know their life after marriage, what suggestions and remedies need to be followed to make married life happy and harmonious, so here in one goal, you would be assisted for everything such as kids, traits, finance, challenges, compatibility and prediction for your marriage date along with suitable remedies.
How Does It Work?
1. Share your birth details and ask your queries/problems.
2. Make the payment.
3. We will send an email for reconfirmation of your birth details through your registered email id.
4. After confirmation, within next 5 working days, we will provide detailed report as per our standard format and reply to your specific questions (Your Report Will Contain – Read it below).
5. You will receive your personalized report at your registered email id.
6. Read your report, and feel free to contact us via e-mail if you feel like having any doubt. We will respond you shortly by reverting your e-mail.
We offer Love Ask 3 Question, Remedial Solution for Love, Remedial Solution for Marriage, Love and Marriage Prospects at the most affordable price. Get positive solutions in your life and achieve the growth you always long for.
Info
Delivery: 5 Days
Get your manually analysed and Hand-Written report by expert Astrologer.
What Wedding Horoscope Report Will Contain?
1. Astrological details of your horoscope chart (i.e. complete basic information, ascendant, rashi, nakshatra, placement of planets, dasha & antardasha).
2. Response to your question.
3. How to make use of this report.
4. Good traits.
5. Bad traits.
6. Relationship.
7. Parenthood.
8. Home and leisure.
9. Life challenges.
10. Your similarities – positives.
11. The differences – negatives.
12. Your marriage date analysis, if any?
13. Conclusion (for the sake of love, power, money, position, etc.).
14. Lucky measures to benefit to you (Lucky number, days, metal, time, direction and gemstone).
15. Mantra and puja Remedies.
16. Lucky yantra and rudraksha.
17. Important tips to make situations easier for you.

Benefits Of Wedding Horoscope Report
1. You have detailed Kundali of both persons.
2. Knowing traits of each other and comply accordingly.
3. Married one can plan well for having a progeny.
4. You are able to match the wavelength of partner for life.
5. On knowing about similarities and dissimilarities, you have time to adjust accordingly.
6. You are able to enjoy marital life to fullest.

Hear From Our Customers
If one thing that defines the best astrologer in Delhi, Umesh Ji is his ability to provide prompt and accurate solutions to any problem related to astrology. Mine was associated with the marital scuffle that was going intense day after day. I asked four questions to the astrologer in order to ensure if the answers genuinely meant to serve my purpose. Frankly, Umesh Ji answered all my questions using his deep wisdom and knowledge of Vedic astrology. I recommend his service.
Ruchi Chauhan, Delhi
In my experience, Pandit Umesh Chander 's astrological inferences are quiet near to reality as he blends traditional astrological knowledge with modern life styles and progress of mankind.
Satish Pasrija, Mumbai, Maharashtra