About Juhi Parmar Horoscope
Published On : July 15, 2019
|
Author : Astrologer Pt Umesh Chandra Pant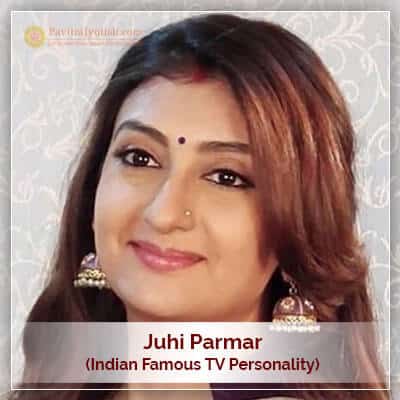 Astrology And What It Says About Juhi Parmar
Introduction of Juhi Parmar – Indian Famous TV Personality
Juhi Parmar, Famous Indian TV Personality is a well-known television personality who came to fame with his blockbuster TV series – Kumkum: Ek Pyara Sa Bandhan. She was born on December 14, 1980, to a family of Rajasthani background. A famous actress, anchor, singer and dancer, Juhi is also a former winner of reality TV show, Bigg Boss in 2011. Salman Khan host Bigg boss. She also won The Miss Rajasthan title in 2003. The TV series, Kumkum made her a household name for which she was given the award of best Actress (Critics) at the Indian Telly Awards in 2005. She got recognition as a favorite bahu Star Parivaar Awards because of her lifelike performance in Kumkum, which apparently is believed to be a milestone for her career. She also won the reality comedy TV show, Comedy Circus. Juhi is married to Sachin Shroff, a Gujarati businessman with whom she did a cameo role in a mythological drama series, Santoshi Maa. The couple is now divorced, with their daughter under the custody of Juhi.
We at PavitraJyotish are conducting an astrological analysis About Juhi Parmar Horoscope, famous TV personality, Juhi Parmar, in the following chart and narrative representing the same.
Birth Details of Juhi Parmar are as per given below:
Date of Birth: December 14, 1980, Birth Day: Sunday, Birth Time: 07:00:00, Birth Place: Jaipur, Rajasthan, India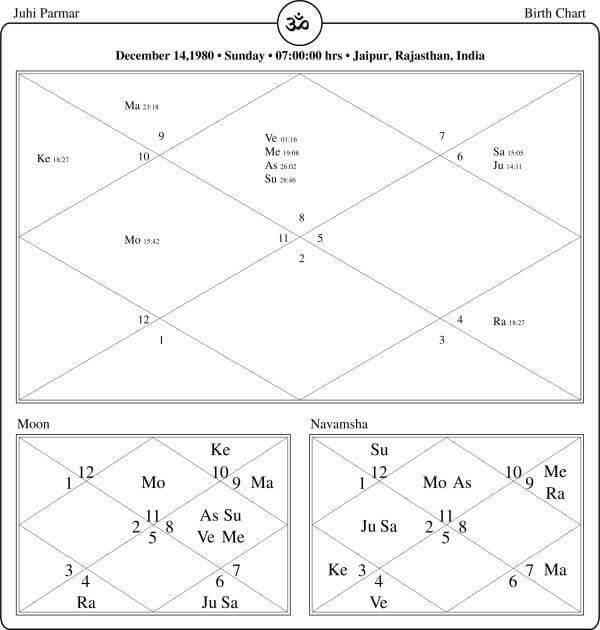 Astrological Highlights
Juhi Parmar is born with Sun in the water sign Scorpio along with Mercury Venus.
It won't be an overstatement to say that Scorpios are different, difficult and dangerously interesting. The 8th Sign of the Zodiac, Scorpio is a fix nature water sign. An apt way to describe them would be to compare them to the mythical bird Phoenix – the one who had the ability to rise from the ashes! The fierce, often blinding, self belief, the incomparable power to rise above adversity, the fierce reactions and the mind boggling intensity – all that is Scorpio, and the, some more. These waters run deep – deeper and more intense than meets the eye! The extremely intriguing Scorpios are as mysterious as they come. Born with a typically 'water element' emotional and intuitive approach towards life and problem solving, sensitive Scorpios are known for their fierce loyalty and fierce responses to love, life and betrayal.
So Scorpio is the Sun sign for Juhi Parmar. Sun is associated with Mercury and Venus in Scorpio. Ruler of her Sun sign Mars is in last of fire sign Sagittarius and positioned in the second house. Jupiter rules the second house and also holds portfolio of the fifth house. Jupiter is in a dual nature earth sign Virgo and keeps company with wily Saturn. Both are stationed in the eleventh house, linked with gain. This position of two major planets propelled Juhi Parmar to climb up the ladder by performing differently as singer, dancer, actress and popular TV anchor. Moon is in last of air sign Aquarius and positioned in the fourth house. Shadow planet Rahu is in a water sign Cancer and stationed in the ninth house. Malefic Ketu is in last of earth sign Capricorn and positioned in the third house.

Effect of Transit by Major planets on prospects of Juhi Parmar in near future
Hard task master Saturn Transit in a dual nature last of fire sign Sagittarius for whole of the year 2019 and beyond. Saturn moves through the second house along with malefic Ketu. Both while moving through the second house, crosses over radical position of Mars stationed therein. Viewing this, movement of two malefic is to strengthen her belief about her ability and talent, as viewers are to cheer and applaud her performance. This movement of two malefic is to present new challenges for Juhi Parmar. She needs to become aware about ground reality. She needs to accept new challenges willingly and try to exert more over the same to achieve her objective about proving her versatility by performing in different roles. This period seems much eventful and progressive for Juhi Parmar.
Shadow planet Rahu Transit in a dual nature air sign Gemini. Rahu moves through the eighth house. Viewing this, during this movement of Rahu through the eighth house, Juhi Parmar needs to remain much careful about her health.
Benevolent Jupiter transits in water sign Scorpio and move through her Sun sign. Jupiter moving through her sign crosses over radical position of Sun, Venus and Mercury. This movement of Jupiter leads to much eventful time for Juhi Parmar. She is get assignment to perform on larger platform. Here she gets opportunity to exhibit her ability and inherent talent to fullest. More viewers are to come for watching her performance. Viewers are to applaud her performance and she may get some award for her performance. This movement of Jupiter leads to a progressive and prosperous time for Juhi Parmar.
Want to experience blissful and happy life? Subscribe to Personal Horoscope, a very constructive Astrological Remedies for all personal problems.
Don't forget to read: About Alka Yagnik Horoscope and About Akash Ambani Horoscope