Career Problems Solution Astrology
Published On : November 18, 2020
|
Author : Astrologer Pt Umesh Chandra Pant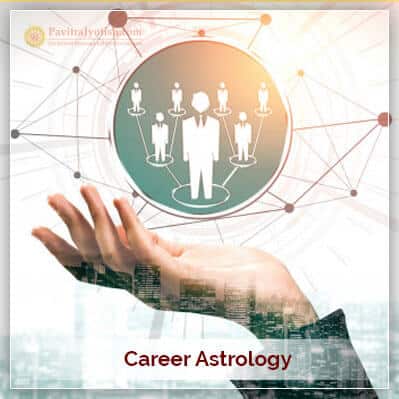 Our premium Career Problems Astrology targets the root cause of downside in your professions with the solution of Career Astrology Growth. Win over obstacles, attain desired growth, promotion and make one's professional life better and thriving.
Career, The Survival Necessity Riddled With Burning Issues
Beyond the measure of financial prosperity and security in life, the importance of career boils down to maintaining one's social prestige, retirement plan, and fulfilment of several other obligations, on domestic and personal fronts. However, career is itself not an example of a continual journey, given obstacles, difficulties, and many elements of destructive nature become the factor of creating deadlock, thereby creating barriers on your path to success in your chosen career or a dream job. Many burning career-related issues like job instability, job insecurity, short-term employment, slow growth, unemployment for a long period of time, and being unable to find a new job in spite of having required talents are some reasons triggering an episode of depressive mood swings and various types of emotional outbursts like rage, frustration, feeling of dark future, and negativity in job aspirants. Such issues are rampant not only in the lives of jobless people, but even the employed ones have to endure different types of career-related hitches causing emotional and physical damages in their lives.
How Can We Analyze Career Through Astrology?
The tenth house, the sixth house or the fifth house signify about career. Ruler of the tenth house is well placed and not influenced by any malefic. This position gives a person much responsible position like being head of the department or being manager or CEO of the company. If the ruler of the tenth house is influenced by benefic planet like Jupiter then the person gets handsome salary. Position of Jupiter plays important role in career. If Jupiter has positive influence over the ninth house the person gets suitably employed at early age. If career oriented seeks a change in assignment, transit of Saturn plays important role. Saturn transiting through the third, the sixth or eleventh house can lead to change in career alias job. If in birth chart Saturn is posited in any of these houses, indicates frequent change in assignment. Saturn afflicting Sun or Moon leads to change of assignment. There are some Astrological position of planet signifies ruining career for some reason.
We offer a host of cost-effective career-related service solutions encompassing diverse segments, such as Career Problems and Solutions, Career Remedies Astrology, Career Problems Astrology, Career Growth Astrology and astrological remedies for career growth, by using the principles of Vedic Career Problems Solution Astrology.
Let us Know Some Career Examples From Given Below Important Birth Charts
Now we try to study individual case wherein movement or position of planets has significant effect.
1) Career Case Study 1
DOB: May 26th 1970
TOB: 07:33 PM
Birth place; Kannur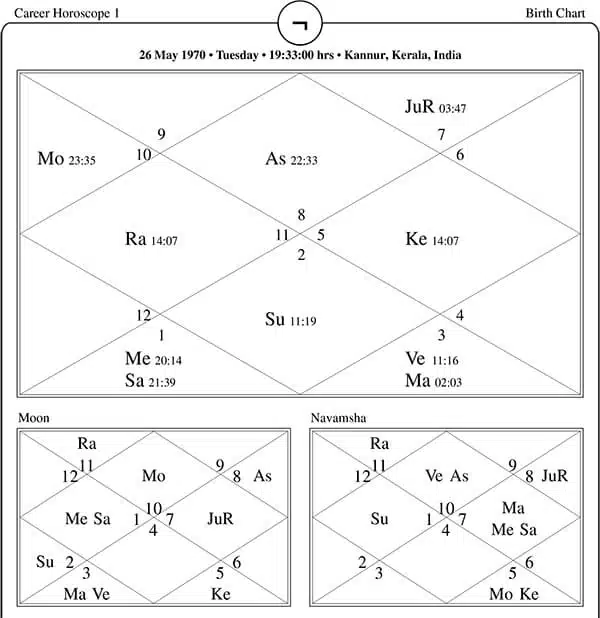 Here lord of the tenth house linked with occupation Sun is in earth sign Taurus and positioned in the seventh house. Mercury and Saturn are in fire sign Aries and stationed in the sixth house. This leads him to work in sundry jobs initially. Ruler of the ninth house, linked with luck in general, Moon is in last of earth sign Capricorn and stationed in the third house.  He works as salesman since 2004. This requires him to undertake short term travels frequently.
2) Career Case Study – 2
DOB: June 2nd 1975
TOB: 01; 43 pm
Place of birth: Delhi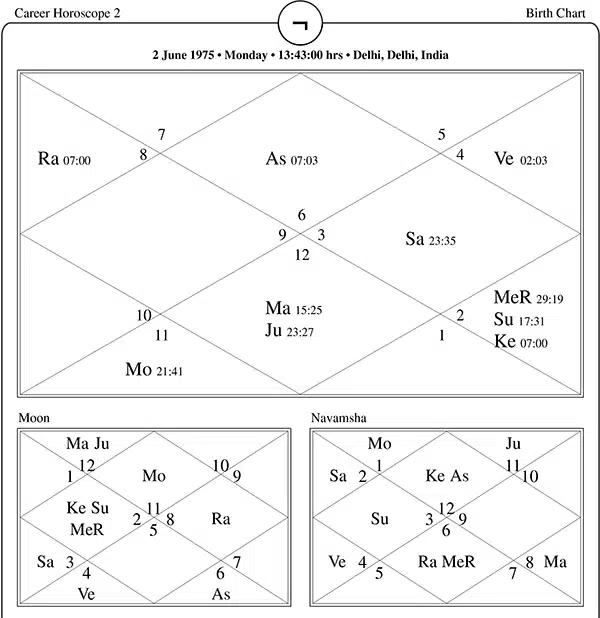 Ruler of the fifth house Saturn is in first of air sign Gemini and stationed in the tenth house linked with occupation. This position supports best of 'Raj Yoga'. She is B. Tech (computer). This position indicates that she is to have a degree in subject she studied. She is now employed in a MNC and holds responsible position. She is married in 2004. In this case ruler of the tenth house Mercury is retrograde in earth sign Taurus and along with mighty Sun and malefic Ketu is positioned in the ninth house. In view of this change for betterment comes suddenly for her.
3) Career Case Study 3
DOB: September 6th 1978
TOB: 02; 30 am
Birth place: Begusarai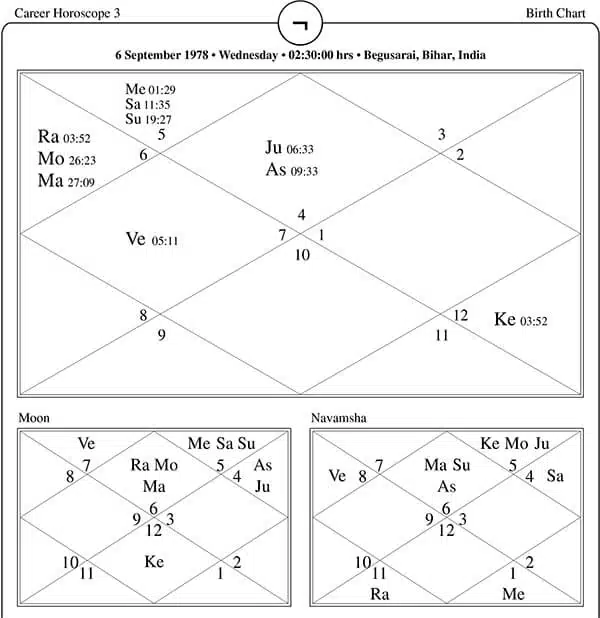 This person is born with water sign Cancer. Ruler of the tenth house Mars is in a dual nature earth sign Virgo and along with shadow planet Rahu and Moon is placed in the third house. Venus is in own sign Libra and stationed in the fourth house. Venus is in opposition to the tenth house. This position of Venus along with Mars leads him to have comfortable job and works in a public sector firm.
4) Career Case Study 4
DOB: November 15, 1976
TOB: 12; 05 pm
Place of birth: Delhi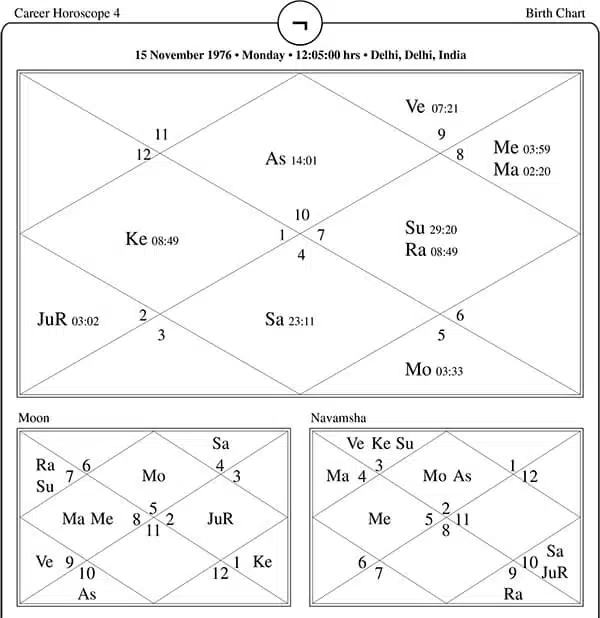 He is born with Capricorn Ascendant. This makes him good at judging grey side of thing. Mighty Sun along with Shadow planet Rahu is stationed in the tenth house, linked with occupation. Jupiter rules the 12th and the third house. Jupiter is retrograde in earth sign Taurus and gets placed in the fifth house. He went to USA for six months.  He is a computer engineer and works in renowned firm in business of software development. He married in November 2002
5) Career Case Study 5
DOB: June 20th 1978
TOB: 21:30
Place of Birth: Bhind MP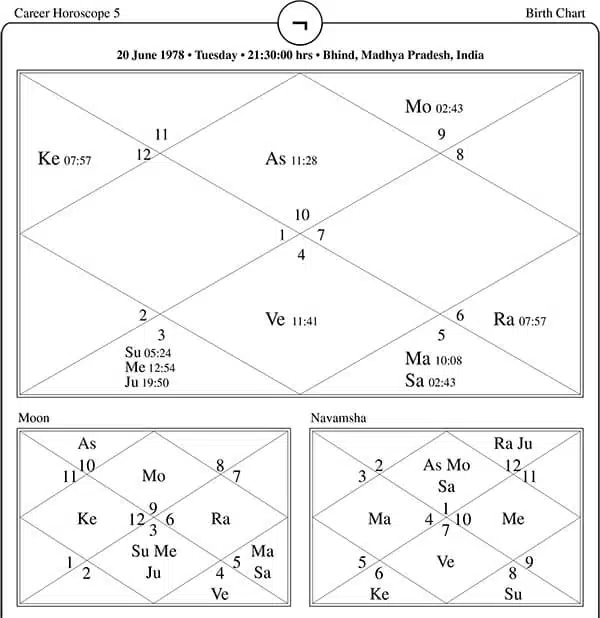 He is born with Capricorn Ascendant. He has kind of pessimistic outlook. Ruler of the tenth house Venus is in water sign Cancer and stationed in the seventh house. Mighty Sun along with crafty Mercury and Jupiter is in first of air sign Gemini and posited in the sixth house signifying job in career. Since October 2001 he is working as MR.  A steady job. He married in May 2003. Sun along with crafty Mercury and Jupiter leads him to a steady job in career.
6) Career Case Study 6
DOB: 21 September 1964
TOB: 00:05 am
Place of Birth Chandigarh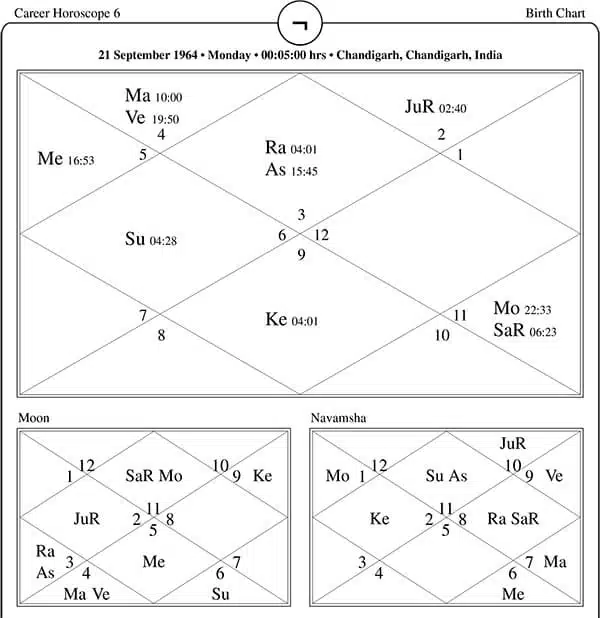 He is born with dual nature air sign Gemini. This makes him intelligent and good at communication. Ruler of Ascendant Mercury is in fire sign Leo and stationed in the third house. Saturn is retrograde in own sign Aquarius along with Moon. Both are posited in the ninth house, linked with luck in general and long distance travel. He achieved degree of MBA in year 1988. Union of Saturn and Moon lead him to change many jobs. Now he is settled in Australia as Marketing Manager.
7) Career Case Study 7
DOB: November 30th 1980
TOB: 05;36 am
Place of Birth: Meerut UP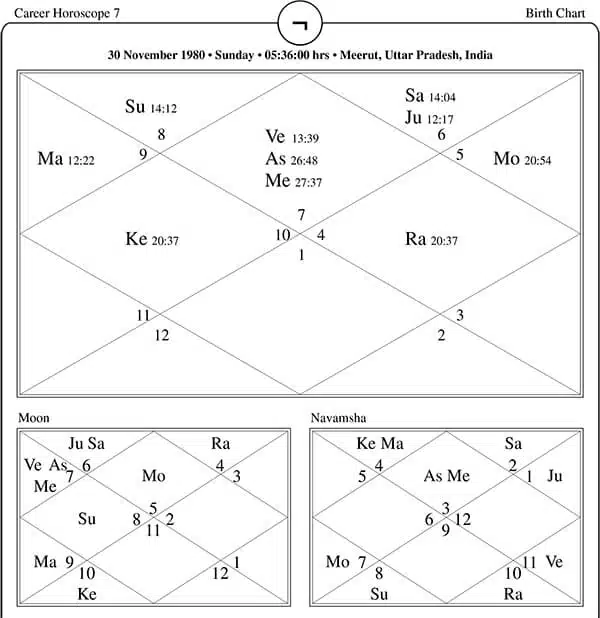 She is born with Libra Ascendant. Ruler of the Ascendant Venus along with Mercury is stationed therein. This position makes her genius meaning she can grasp things quickly enough. Shadow planet Rahu is posited in the tenth house. She has a steady job in TCS. Rahu in the tenth house gives her tendency for working hard to achieve her objective.
We pioneer Astrological Remedies For Career Growth with principles of Career Problems Astrology. Our host of impeccable career solutions, such as Career Report 1 Year, Career Ask 1 Question, Remedial Solution For Career, Career Report 5 Year offer premium solutions for your professional plights. Make success in your chosen profession with Strength Reading For Career solutions. Ask to Astrologer and get effective solutions.
Read more Articles: Financial Problem Solution Astrology and Business Problems Solution Astrology