Business Report 10 Year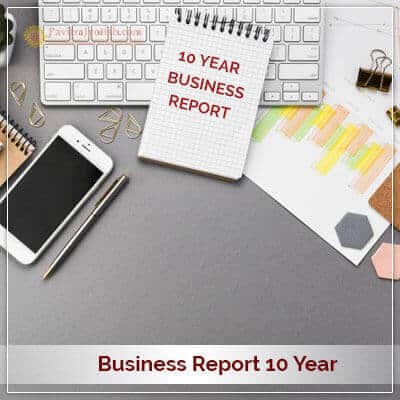 Business Success Using Our Ten Years Of Consistent Astro-Counselling
Business Report 10 Years enables you to get the guidance and suggestions to smoothly run your business for the next 10 years. It is thus prepared on the basis of the natal chart and keeping other important astrological factors in mind by our expert astrologer. Thus, you will be able to make proactive decisions regarding your business accordingly. If you want long term Business Problem Solution then get our business report 10 years.
Important Information About Business Report 10 Year
Service Name: Business Report 10 Year, Service Type: Astrological Guidance and Solution, Language: English, Service Mode: Online (By e-mail only), Delivery: 5 Days, Features: Guaranteed solutions, Reliable services, Extensive results and best standard format of PavitraJyotish (YOUR REPORT WILL CONTAIN – Read it below), Benefits: It helps you setting short and long term goals with solution of your personal problems positively.
Why Business Report 10 Year?
For the long term planning in your business, the Business Report 10 Year looks to be a great solution for you enabling you to plan things such as it would provide you long terms benefits if initiated during your auspicious time period by avoiding your inauspicious ones in the next 10 years along with relevant remedies.
How Does It Work?
1. Share your birth details and ask your queries/problems.
2. Make the payment.
3. We will send an email for reconfirmation of your birth details through your registered email id.
4. After confirmation, within next 5 working days, we will provide detailed report as per our standard format and reply to your specific questions (Your Report Will Contain – Read it below).
5. You will receive your personalized report at your registered email id.
6. Read your report, and feel free to contact us via e-mail if you feel like having any doubt. We will respond you shortly by reverting your e-mail.
Make your business flourished with success or get financial wealthy or catapult your academic success using our Business Report 5 Year, Business Report 7 Year, Gemstone Recommendation for Finance, Gemstone Recommendation for Education services. They can be availed at the most competitive price.
Info
Delivery : 5 Days
Get your manually analysed and Hand-Written report by expert Astrologer.
What Business Report 10 Year Will Contain?
1. Astrological Details of your Horoscope chart (i.e. Complete basic information, Ascendant, Rashi, Nakshatra, Placement of Planets, Dasha & Antardasha).
2. Response to your question.
3. Business as noted from your kundali.
4. Prediction of the next 10 years in 4 quarters.
5. Lucky measures to benefit to you (Lucky number, days, metal, time, direction and gemstone).
6. Mantra and Puja Remedies.
7. Lucky Yantra and Rudraksha.
8. Important tips to make situations easier for you.

Benefits Of Business Report 10 Year
1. You can take smarter, calculated decisions, with a clear view of the upcoming situation.
2. The solutions to your confusions and problems will be resolved and thus empower you to face the odds with adequate protection.
3. Risks in your business will be reduced.
4. You will be confident to take wise decisions since the problems will be handled with ease. This will help in clear thinking and happier planning ahead.

Hear From Our Customers
I was consult to Pt Umesh for horoscope reading. I feel that pandit ji really true person and guide very well. I followed the remedies and other astrological guide of pandit ji and so relaxed. He is a genuine person and complete knowledge of astrology. I recommend pandit ji to everyone who wants actual guidance of astrology. Always regards to pandit ji.
Anurag, Gurgaon NCR
I worked hard to set up my business and ran it successfully. However, things were not helping me these days. My business kept on earning loss after loss, making me unable to figure out the real cause. I also consulted some palmists but of no avail. The name of Umesh Ji was suggested by an endeared friend of mine. So, I approached him and told him about my story. He patiently listened to my grievances. Then he offered me business report that was for 10 years. Though it was lengthy but trusting in his experiential insight, I chose it. Believe me; most of the predictions made in the report are close to the experience in my life. Now I feel more confident in handling my business than ever. Knowing when to avoid risks and embrace an opportunity is certainly a confidence-boosting factor for any businessperson. I, for one, am certainly over the moon. Big thank goes to Umesh Ji.
Akash Nath, Delhi