Emerald (Panna) Gemstone 1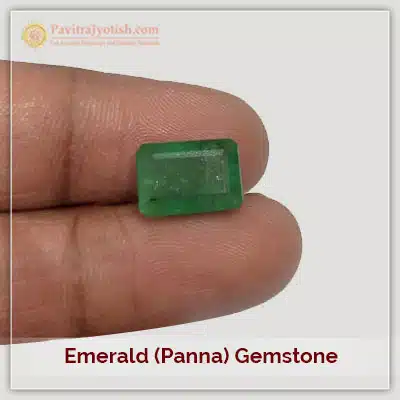 Overcome Your Fear And Nervousness – Emerald (Panna) Gemstone
Certified Natural Emerald Gemstone (Panna Ratna Stone)
Emerald is commonly known as Panna. It is green in color. It is available in different shades of Green like leaf green, bottle green. Emerald is a very much costly and its cost varies according to size and its quality. Emerald (Panna) Gemstone is attached to Planet Mercury. In a kundli, Mercury has a major role to play. Mercury is linked to communication, liquid money, research, all that needs using your intelligence, nervous system and many more. According to Vedic Astrology, Mercury is associated with setting goals and following it up with concrete actions, to achieve the goals. When Mercury is placed in an auspicious house in the horoscope, the person is organized and has an eye for details. Mercury in an inauspicious house or weak Mercury can make one indecisive and fickle minded. In order to empower Mercury to render positive results, wearing an energized Emerald (Panna) Gemstone works well enhancing your prospects on at all level. You can Buy Pure Emerald Gemstone Online or Lab Certified Panna Gemstone at the online Astrology Product Store of PavitraJyotish.
Emerald (Panna) Gemstone is one of the most precious Gemstone and it has the properties that are associated with planet Mercury. They are believed to provide effects like increase in concentration, reduce depression, reduce hypertension in heart-related problems and also help to reduce mental conflicts.
Product Information For Emerald (Panna) Gemstone
Product Name: Emerald (Panna) Gemstone, Colour: Green, Shape: Oval Or Rectangular Or Square, Weight: Approx. 6 Carat, Origin: Zambia, Quality Effects: Energized by Scholar Pundits, Treatments Applied: Unheated and Untreated, Gemstone Type: Lab Certified, Certification: Authentic Lab Certified, Ideal For: Bracelets Or Necklace Or Ring, Usage/Application: Wearing method provided to you with Gemstone, Brand: PavitraJyotish, Packaging Type: Box, Guarantee: Best Quality Gemstone With Assurance of PavitraJyotish.com.
How Does It Work?
1. Share your gemstone energization (puja) details, your wishes, complete address with postal pin code and phone number for dispatching authentic and 100% original Emerald (Panna) Gemstone.
2. Make the payment.
3. Once you have an order for the gemstone, you will receive an order confirmation email at your registered email id.
4. We will send an email for reconfirmation of your energization (puja) details, and your address through your registered email id.
5. After confirmation of your email, we will process your order and make the ring and energize the gemstone according to your best muhurta.
6. After that, we will send the gemstone by post or courier at your mentioned address. It will take 1-2 weeks to process your order for gemstone.
7. After dispatching the product, we will send tracking details of it by your registered email.
8. When you receive a gemstone please confirm through an email.
9. Open the parcel, read our instructions and wear the same.
Benefits Of Wearing Energized Emerald (Panna) Gemstone
1. You remain in right state of mind.
2. You initiate positive action resulting in favorable results.
3. Adds strength to your position on the financial front.
4. Your communication skill gets enhanced.
5. Ability to take a timely decision.
6. You will have constructive ideas to follow.
7. Enhances scope of prosperity.
8. Good sense of business.
Weight: 6 Carat ( 1 Carat= 200 mg)
We have developed a proprietary method to cleanse, energize and attune Gemstone and especially for you. It is based on our deep research and understanding of the Vedas and related astrological scriptures.
Choose our quality astrological products, in gemstone segments such as Coral (Moonga) Gemstone, Yellow Sapphire (Pukhraj) Gemstone, Diamond Gemstone, Zircon. They are energized and so contain healing effects for people suffering from a certain issue in their lives.
Info
Delivery: 2 Week
Outside India an additional shipping and handling cost of USD 30