Siddh Moti Mala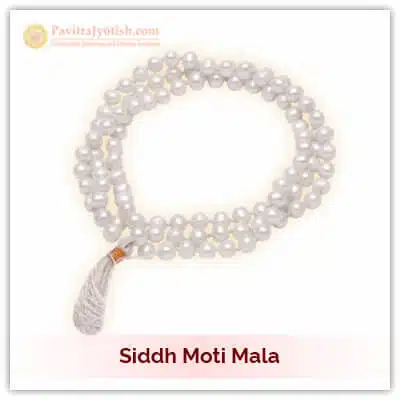 Sound Health And Gain Wealth With Siddh Moti Mala
Get peace of mind and happiness with Siddh Moti Mala. Our Original Pearl Rosary Beads is set in accordance with the budgetary expectation of every seeker. Further, our siddh and energized rosary can ensure luxuries and comfortable lifestyle for you. You can buy Original Moti Mala Price online at PavitraJyotish.com.
Moti known as white Pearl is measured as queen of Gemstone. It stands for purity and innocence. Moon is linked with Siddh Moti Mala. If Moon is weak in your natal chart (Kundali), having this Siddh Moti Mala is much useful for you. It attracts positive vibes and in turn you remain surrounded by positive energy. Having this Siddh Moti Mala works well for higher growth on occupational front. On attaining higher growth on occupational front you become financially strong as well. In turn then you can buy a luxurious vehicle and own a property for residing peacefully. You are to have a pleasant and enjoyable time with your family and friends.
We have developed a proprietary method to cleanse the Siddh Moti Mala of negative energy and energize and energize in order to activate the Original Rosary Mala to render positive results for you. It is based on our deep research and understanding of the Vedas and related astrological scriptures.
Product Information For Siddh Moti Mala
Product Name: Siddh Moti Mala, Colour: White, No. Of Bead: 109, Usage: Chanting or Astrological Remedies, Guarantee: 100% Authentic, Quality Effects: Energized by Scholar Pundits, Purity: 100%, Usual: Best For Chanting Or Astrological Remedies, Finishing Type: Best, Usage/Application: Wearing method provided to you with Rosary Mala, Brand: PavitraJyotish, Packaging Type: Box, Guarantee: Best Quality Rosary Mala With Assurance of PavitraJyotish.com.
How Does It Work?
1. Share your Rosary (Mala) energization (puja) details, your wishes, complete address with postal pin code and phone no for dispatching authentic and 100% original siddh Moti Mala.
2. Make the payment.
3. Once you have an order for the siddh Rosary (Mala), you will receive an order confirmation email at your registered email id.
4. We will send an email for reconfirmation of your energization (puja) details, and your address through your registered email id.
5. After confirmation of your email, we will process your order of siddh Rosary (Mala) according to your best muhurta.
6. After that, we will send the siddh Rosary (Mala) through courier or by post to your mentioned address. We need 1-2 weeks for the complete process of your order for Rosary.
7. After dispatching the product, we will send tracking details of it at your registered email.
8. When you receive a siddh Rosary (Mala) please confirm through an email.
9. Open the parcel, read our instructions and wear the same or use for chanting.
Benefits Of Having Purified And Activated Siddh Moti Mala
1. You have peace of mind and happiness.
2. Having this Siddh Moti Mala leads to higher growth on occupational front.
3. You remain in a strong financial front.
4. You can buy property in a good area as per your needs.
5. You can have luxuries and add comforts.
6. You remain blessed by deity you worship.
7. The negative energy of Weak or ill placed planet Moon in birth chart gets neutralized.
Siddh Rakt Chandan Mala, Siddh Shwet Chandan Mala and other rosaries that we make available through our web store are trusted for their efficacy in terms of turning your misery into good fortune and helping you lead a life of happiness. Boost your mental peace, growth and success potentiality.
Info
Delivery: 2 Week
Outside India an additional shipping and handling cost of USD 30