Saturn Transit Report for your Love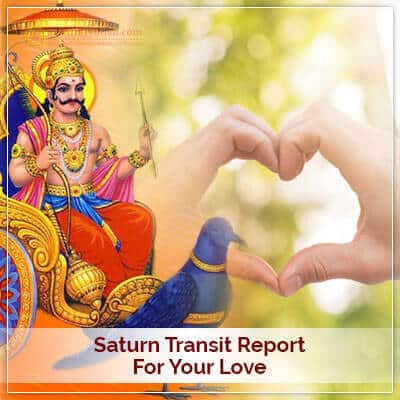 As commonly believed, Saturn is the planet correlating with your Karma. Though it does not do any good to love relationship, it can help you know the basic characteristics of the person you fall in love with. As a result, you get to know if the person in a relationship understands mutual respect and commitment, enabling you to make an informed decision whether or not such relationship is worth continuing.
Sometimes, misunderstanding between the lovebirds arises owing to Saturn retrograde, swaying your emotional intelligence negatively until beneficial cyclic transit of Saturn steps in.
As a renowned astrologer, Pt. Umesh Chandra Pant can help you understand if your karma planet is in beneficial transit or not, and what your steps should be consistent with your planetary movements. Get your Saturn transit report for your love and know Saturn planet effects in your love as per your chart. The report will also include key tips to make your situation better for you.
Info
Delivery : 5 Days
Get your manually analysed and Hand-Written report by expert Astrologer.
Customer Care
If you have any confusion or need further clarification please contact our customer care.
Call +91-95821 92381 and 011-49901368
Your Report Will Contain:
1. Astrological Details of your Horoscope chart
2. Astrological analysis of your situation
3. Response to your question
4. How to make use of this report
5. Lucky measures to benefit to you (Lucky number, days, metal, time, direction and gemstone)
Impact on your Love life
6. How much favorable or unfavorable is transit of Saturn in Sagittarius.
7. Whether this is to help in pushing ahead your prospects to have an enjoyable love life.
Special observations
8. Some notable developments are mentioned.
9. Mantra and Puja Remedies
10. Accurate remedial measures for your problems (Lucky Yantra and Rudraksha)
11. Important tips to make situations easier for you

Benefits of this report:
1. You get enough time to know about person you intend to have love relationship.
2. The report lets you know when to propose to concerned person for having love relationship.
3. The report also lets you know right time to look for your soul mate.
4. You know in advance to know whether it is time for taking relationship to next stage.
Testimonials:
Saturn is the most malefic planet one should stay alert" these were the words told by many astrologers in the past. They made me spend a sleepless night as I recalled my problems on the front of love were all because of wrong Saturn. Anyway my fear held no water when I consulted astrologer Umesh Ji for a thorough guidance. He consoled me that I didn't need to fear for Saturn as its influences are treatable through certain rituals and gemstone. Moreover, he also built confidence through positive counseling. I appreciate his service integrity.
Mohit Banerji, Gujarat
Pandit Umeshji has been a great support to us. His advice was quite helpful. He is a man of high integrity. He was very patient and kind enough to be available whenever his advise was required. His easy remedies gave positive results. Thanks & Regards.
Surbhi Luthra, Abu Dhabi