Jupiter Transit Report for your Love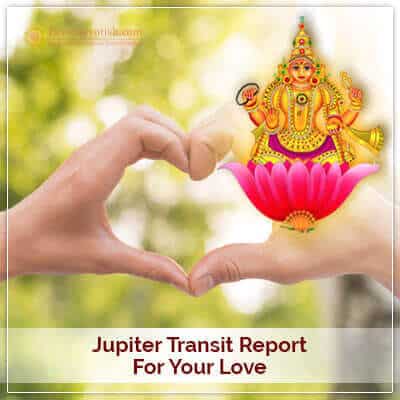 Jupiter is the largest planet in the solar family and it holds a special position in Vedic astrology as an auspicious or benefic planet. It takes one year for Jupiter to traverse through a single zodiac sign. If the cyclic transit of this planet is in favourable position, there is no doubt your love life will be blessed with boundless peace and happiness, as it leads to finding a right person to get married.
Our astrological service, in context of preparing Jupiter transit report for your love life, will help you get the exclusive details into your planet's transit cycle in the chart, with relative impact on your love life. We prepare a customized love report encompassing details of how Jupiter in your birth chart tells you about your love life.
Info
Delivery : 5 Days
Get your manually analysed and Hand-Written report by expert Astrologer.
Customer Care
If you have any confusion or need further clarification please contact our customer care.
Call +91-95821 92381 and 011-49901368
Your Report Will Contain:
1. Astrological Details of your Horoscope chart
2. Astrological analysis of your situation
3. Response to your question
4. How to make use of this report
5. Lucky measures to benefit to you (Lucky number, days, metal, time, direction and gemstone)
Impact on your Love life
6. How much favorable or unfavorable is transit of Jupiter in Scorpio for love life.
7. Whether this is to help in pushing ahead your prospects of having an enjoyable love life.
Special observations
8. Some notable developments are mentioned.
9. Mantra and Puja Remedies
10. Accurate remedial measures for your problems (Lucky Yantra and Rudraksha)
11. Important tips to make situations easier for you

Benefits of this report:
1. You get enough time to know about person you intend to have love relationship.
2. The report lets you know when to propose to concerned person for having love relationship.
3. The report also lets you know right time to look for your soul mate.
4. You know in advance to know whether it is time for taking relationship to next stage.
Testimonials:
Jupiter transit report for love is one of the most comprehensive astro solutions provide by Umesh Ji. I am not here endorsing this service for commercial reason, but I am talking about this because he provided me a great deal of solution to my Jupiter transit and its impact in my life. He offered me customised report for the same. Moreover, he told me exactly what's been happening in my life based on his horoscope predictions.
-Suman Jaradi, Karnataka
Pandit Umeshji has been a great support to us. His advice was quite helpful. He is a man of high integrity. He was very patient and kind enough to be available whenever his advise was required. His easy remedies gave positive results. Thanks & Regards.
Surbhi Luthra, Abu Dhabi