About Kareena Kapoor Horoscope
Published On : July 20, 2018
|
Author : Astrologer Pt Umesh Chandra Pant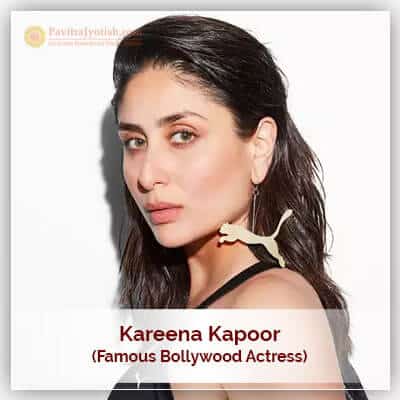 Astrology In Its Analysis About Kareena Kapoor
Kareena Kapoor – Famous Bollywood Actress
Kareena Kapoor, Famous Bollywood Actress who came to cinematic highlight after performing in various commercially successful films, such as Kabhi Khushi Kabhie Gham, Chameli, Dev, and Jab We Met. Later she impressed critiques with her scintillating performance in critically acclaimed movies like 3 Idiots and Bajrangi Bhaijaan. Born on September 21, 1980 in Mumbai, Kareena's background involves her familial life consisting of mother Babita, father Randhir Kapoor, elder sister Karisma Kapoor, uncle Rishi Kapoor, and paternal grandfather late Raj Kapoor. She was brought up and raised in a family riddled with conventional notion restricting women from entering into cinematic world, in order for the women to focus on their material responsibilities. Because of that thinking of Randhir Kapoor, Kareena was then separated from her father and lived with her mother who supported her daughters by doing several jobs until Kareena's estranged parents buried their hatchet and lived together. Kareena is known to be one of the finest actresses in Bollywood who started off her filmy career with Refugee, a movie directed by noted director J.P. Dutta. But the movie tanked at box office, despite her impressive performance. Undeterred by the failure, the cinematic journey of Kareena was kept on momentum and she is now one of the famous actresses with many honorary awards to her credit, including Filmfare award for best female debut, the Lux Face of the Year award, Best Actress Filmfare Award for Jab We Met, and an IIFA Award for Best Actress for her performance in 3 Idiots. Kareena is married to Saif Ali Khan. The couple has a baby boy named Taimur Ali Khan, who's been a media sensation for his drop-dead gorgeous look.
At PavitraJyotish, we're conducting an astrological analysis on Kareena Kapoor to dig deeper into dimensional aspects of her life through the following astrological interpretation.
Birth Details of Kareena Kapoor are as per given below:
Date of Birth: September 21, 1980, Birth Day: Sunday, Birth Time: 14:17:00, Birth Place: Mumbai, Maharashtra, India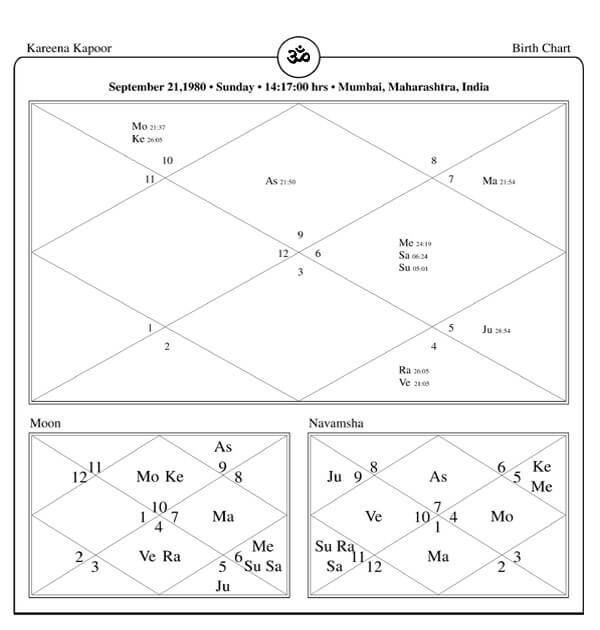 Astrological Highlights and Horoscope Analysis Kareena Kapoor
Kareena Kapoor Khan popular bollywood actress is born with Sagittarius Ascendant, a dual natured last of fire sign. Native of Sagittarius Ascendant is very much optimistic and work hard to achieve their objective. Ruler of the Ascendant Jupiter is in a fire sign Leo and placed in the ninth house. Jupiter has positive influence over the Ascendant. This leads to having high level of acceptance for here. Ruler of the ninth house mighty Sun is in a dual natured earth sign Virgo and positioned in the tenth house along with ruler thereof Mercury and wily Saturn. This position worked well for Kareena Kapoor to make notable progress as a female actress in Hindi film. Position of Saturn in the tenth house indicates that she has to put hard work to have name in Indian film industry. Mars being ruler of the fifth and the 12th house is in an air sign Libra and stationed in the eleventh house. The eleventh house is domain of Venus. Venus is in a water sign Cancer and gets placed in the eighth house along with malefic shadow Planet Rahu. Malefic shadow planet Ketu is in earth sign Capricorn and positioned in the second house along with Moon. Opposition of Moon and Venus gives her good looks and beautiful eyes.
In Navmansha D9 chart, Jupiter, Saturn, Mars and Moon are in their own sign hence gain strength.
For prompt answer to your worries have a telephonic consultation with our expert Astrologer In India.

Effect of transitory planets in near future
Ruler of the Ascendant benevolent Jupiter Transit in air sign Libra and moves through the eleventh house till around mid of October 2018. Jupiter moving through the eleventh house crosses over radical position of Mars positioned therein. This indicates about birth of a progeny. She delivered a Boy then. Some new meaningful relationship is to take shape. She is to have pleasant enjoyable time for Kareena Kapoor. Overall this movement of Jupiter seems a prosperous gainful time for Kareena Kapoor.
Jupiter then enters a fix natured water sign Scorpio and moves through the 12th house. Jupiter moving through the 12th house aspects radical position of Venus and Rahu positioned in the eighth house. This can lead Kareena Kapoor to have an assignment in a film to work upon. She has to incur some unexpected expenses here. She needs to handle matter related to finance cautiously.
From around end of March 2019 Jupiter enters its own sign Sagittarius. Jupiter turns retrograde from around mid of April in Sagittarius and reenters Scorpio from around end of April 2019. Jupiter becomes direct in motion from around end of August 2019. The retrogression period of Jupiter is to present new challenges for Kareena Kapoor. She is to spend money on some unwarranted things. Things are start moving well for her after Jupiter becomes direct in motion.
From around beginning of November 2019 Jupiter again enters its own sign Sagittarius and moves through the Ascendant. Jupiter moves through the Ascendant in company of Saturn and malefic Ketu. Movement of Jupiter through the Ascendant is to work well in minimizing evil effect of Saturn and Ketu. Jupiter keeps transiting in Sagittarius till end of the year 2019 and beyond. At end of the year 2019, Kareena Kapoor, famous bollywood actress is to feel happy with her position and her achievements.
Worry about your career? Not being able to make a right career choice. Avail our Career Horoscope Report and demystify the success and unanswered mystery of your career's growth.
From around beginning of September Venus enters its own sign Libra and moves through the eleventh house. This can lead to shaping of new relationship. Kareena kapoor needs to execute due caution in shaping relationship with opposite sex. Kareena kapoor is to have a pleasant and enjoyable time during movement of Venus through the eleventh house. This also indicates a kind of gainful time for Kareena Kapoor
From May 2018 Mars entered in its sign of exaltation Capricorn and Move through the second house and have aspect on radical position of Venus and Rahu camping in the eighth house. This is to make her passionate about enjoying pleasures of life to fullest. However, she needs to be much careful about in handling matters related to finance and family. If any issue pops in family she needs to keep her cool and handle things tactfully. This phase seems to be challenging time for Kareena Kapoor.
Wily Saturn transits in a dual natured last of fire sign Sagittarius. Saturn Transit in Sagittarius during 2018 and also whole of year 2019. Saturn now moves through the Ascendant. This movement of Saturn is to present new challenges for Kareena Kapoor, popular bollywood actress. She needs to handle this much tactfully for good. Retrogression period of Saturn can see her not doing things on career front. She needs to focus on to keep her to maintain her shape. Some real hard work for Kareena Kapoor is envisaged during movement of Saturn through the Ascendant.
Malefic shadow planets Rahu Ketu Transit in Cancer and Capricorn respectively. Both are to repeat their radical position. From around March 2019 Rahu enters air sign Gemini and Ketu in a fire sign Sagittarius. Now Ketu moves through the Ascendant in company of Saturn. Kareena is to have kind of challenging time during movement of Ketu and Saturn through the Ascendant. She has to exert more and at times work for extended hours to meet demand of her career as a talented actress. She has to accept new challenges and work over the same patiently.
Viewing above mentioned transit of major planets in her chart, and deliberating well enough over the same. This period is to be positively eventful and somewhat challenging for Kareena Kapoor. She is to enjoy pleasures of life to the fullest.
Read more Articles: About Saif Ali Khan Horoscope and About Divyanka Tripathi Horoscope