Jupiter Transit 11th August 2016
Published On : June 28, 2016
|
Author : Astrologer Pt Umesh Chandra Pant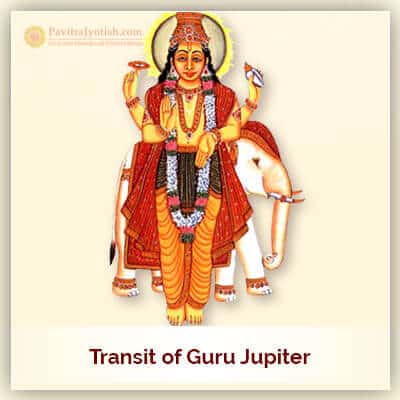 Effects Of Jupiter Transit, Remedial Measures And Other Details
Know About Transit of Jupiter
Jupiter Transit 11th August 2016 – Jupiter moves into its next sign, once every year. Since Jupiter is a slow moving planet, its transit to another house will have multi-fold impacts on our life. Currently, Jupiter is transiting through Leo and will move to Virgo on the 11th Aug 2016 at 21 hours 28 minutes. Due to this transit, you can expect a drastic or a mild impact on your health, career, finances, opportunities, education, and finance and also in your relations.
How will this Jupiter Transit affect you?
The planets are continuously in movement around the Sun. The inner inferior planets (Mercury and Venus) move at faster pace, while the outer planets (Mars, Jupiter, and Saturn) take a longer time to complete the orbit. Moon is the fastest moving body. Due to this motion of planets, from one constellation to another, from one house to another, in the horoscope, there are multiple changes in every dimension of our life. The good and bad impact depends on the orientation of planets in the individual horoscope.
Depending on the impact of other planets and relation of the transit of Jupiter on your Horoscope, one can plan the further course of action or take a detour so that the positive impacts can be highlighted and the negative impacts can be lowered.
With a proper analysis of the horoscope and by using appropriate remedial measures, it will be easier to form a plan for the coming times. Investments or career planning, studying overseas or focusing on your career, major ailment or recovery of the long-standing problem and various other issues can be ascertained with proper study of the horoscope, in relation to the transit of Jupiter.

The solution for this Jupiter transit
PavitraJyotish.com under the guidance of Pt. Umesh Pant provides you a direction with personal attention to your horoscope. The Remedies suggested will help you make your decisions cautiously and avoid a drastic fall. PavitraJyotish.com will provide you all the details about the growth along with suggestions about the right Gemstone, Rudraksha, and Yantra.
Impact of Jupiter Transit on your Zodiac Sign
The movement of a planet from one sign to another, in its orbit, is termed as 'Transit'. The inner planets, Mercury and Venus move from one house to another at a faster speed compared to the planets like Mars, Jupiter, and Saturn, the outer planets. Of these three, Jupiter takes about 12 years to go through the 12 signs, staying in one sign an average of one year.
This year Jupiter transits to Kanya Rashi (Virgo) on the 11th Aug 2016, at  21:28 hours. The impact of this transit on various signs will be different, depending upon the position of natal planets. However, the following changes/ impacts can be noted in various signs, to some extent.
Jupiter Transit effect on Aries
Transit Jupiter impacts the 6th house, in its transit through Virgo. Those desiring a change of job or looking for a promotion in profession or expansion in business may feel delighted with some good news coming your way. Health will need attention since the 6th house impacts the house of diseases. Loans and credits would have to be kept to the minimum. Financially, there would be possibilities of growth with the 9th aspect of Jupiter.
Jupiter Transit effect on Taurus
Jupiter, in its transit through Virgo, impacts the 5th house. The progress of children will keep you satisfied. This year will bring in emotional growth and new associations. Due to the 5th aspect of transit Jupiter, professional growth and expansion will be noteworthy. Due to the 9th aspect, you can expect a financial gain in the year ahead for you, with opportunities coming through friends and associates. Your luck will favor you in areas of your interest if there have been dedicated efforts thus far.
Jupiter Transit effect on Gemini
Transit impacts of Jupiter will be in the 4th house, the house of domestic matters. With the 7th impact of transit Jupiter, professionally, there will be expected gains and promotions. It would be important for you to take additional care of your domestic front without being complacent. Expenses will be more since you will wish to indulge in your family and yourself. Relation with your mother will be attuned with better understanding. The health of your mother/aunt will need attention.

Jupiter Transit Effect on Cancer
The transit of Jupiter through Virgo impacts the 3rd house of efforts. Relation with younger siblings can be strained due to inappropriate words. Those keen to settle in the marital alliance will note romance and positive vibes coming your way. The 9th aspect of transit Jupiter will bring in an increase in income. Your communication will be very important in this period.
Jupiter Transit effect on Leo
Jupiter transits through the 2nd house, in this movement. You will be able to achieve success, acclamation, and promotion if you can retrain your speech and take a hold of your anger. Relation with your senior will be appreciable due to the 9th aspect of Jupiter. Opportunities for progress will be noteworthy provided you place your trust with caution. Legal matters will need much attention.
Jupiter Transit effect on Virgo
Jupiter transits through the ascendant. Confidence in your abilities will be paramount, your precision and perfection will be noteworthy. Due to the 5th aspect of transit Jupiter, you will share a good relationship with your seniors and will be able to execute plans effectively. Relation with father / elderly people will be good. The health of your father may need attention.
Get your Personalised transit report of Jupiter (Guru) Now.
Jupiter Transit effect on Libra
Transit Jupiter impacts the 12th house of expenses in its transit. Tours and travels will be more if your job demands so. Family life and relatives will be important for you, to resonate in mutual harmony. Obstacles in terms of delay in completing work and lack of opportunity for growth may be bothersome due to the 9th aspect of Jupiter.

Jupiter Transit effect on Scorpio
Jupiter in its transit through Virgo impacts the house of gains. It might be difficult to gain as expected in your finances, especially in shares and investments. Love relation and comfort with your beloved will be noteworthy, due to the 7th aspect of Jupiter. Deeper understanding and refined intellect will help you understand and observe your situations. The marital alliance is likely to settle for those at marriage age.
Jupiter Transit effect on Sagittarius
This transit will impact on the 10th house of your profession, partly positive and partly in the negative. Hence it is an important period to be cautious of your working conditions and peers. Peace and comfort in the family will be noteworthy. Legal matters may become important, hence attention would be desirable. This transit will be important in many dimensions.
Jupiter Transit effect on Capricorn
Jupiter in its transit through Virgo impacts the 9th house. Though progress may be slightly slow for you, there will be learning an important opportunity for growth. Creativity and expression will find new meaning with a better appreciation. Your hard-work and concentrated efforts will be much needed, and you will get your desired results successfully.
Jupiter Transit effect on Aquarius
Jupiter transits through the 8th house, thereby helping you to tune your subtle understanding and help in higher studies. Instead of pushing matters, you may wish to observe and make the best use of these available opportunities in work and in your business. The gain in finances and property will be noteworthy. There will be benefit changes in your domestic life.
Jupiter Transit effect on Pisces
With transit Jupiter impacting the 7th house of marital life, those keen on marriage will settle alliances in this transit effect. Remain aware of your communication. Relation with siblings can be strained unless additional efforts are taken to make peace. Relation with your senior and progress in your work/ business will be appreciable. Plans for expanding your work will be successful.
Must Read: Saturn Transit 26th Jan 2017 and Importance and Role of Saturn (Shani) Transit in Vedic Astrology Predictions