Leo Overview Horoscope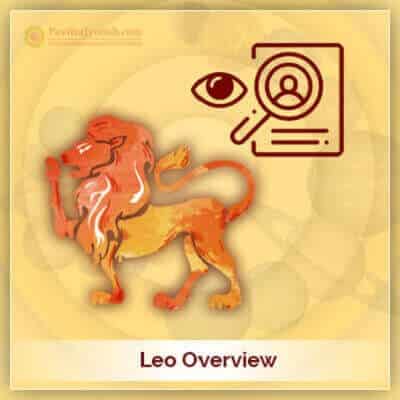 Leo Overview – Your Traits In A Nutshell
Leo Characteristic – Leo Traits, Personality and Lucky Numbers Details
What does your LEO sign for your future? To know this, our astrological overview about Leo's characteristics can be of crucial help for your needs. Ask Astrologer and Get to know your Leo Personality, the type of career suitable for you, and how to manage priorities with best astrological guidance. Leo Remedies And Useful Tips for success offered to you, including your Leo Lucky Numbers, Leo Traits and quality can help you bring forth desired success, peace, prosperity and achievements in your life. At PavitraJyotish.com, you can also explore free Leo Today Horoscope, Leo weekly Astrology, Leo monthly Astrology, Leo Compatibility and Leo yearly Astrology and find out what the planets have planned for the Leo Zodiac Sign.
Physical
Full stature with well-developed bones and broad shoulders, commanding and majestic appearance, oval faced, the upper part of the body generally well formed, thin waist, blue or yellow eyes.
General
Expressive, forceful, dominant and born to rule. Frank, generous, magnanimous and ambitious. Firm will and forgiving spirit. Voracious readers. Fond of pleasure and luxury even with limited resources. Capable of inspiring confidence. Jealous of own fame and unlikely to fall a victim of flattery. The main characteristics are the habit of silence. The journey of eastern direction or working while sitting towards east direction is very helpful. Self-confidence and self-possession are secrets to their success. Endurance and confidence to make any difficult task. Makes use of every opportunity that arises. Interested in drama, poetry and fine arts. Loyalty to either kind or own family is supreme. Potential speculator or punter. Successful in a government job, army or police. Gets specialization in one field. Charm, ideal lover. fond of non-vegetarian food, fond of wandering in distant places, mountain, hills etc. afraid of cold likely to suffer from inflammation, sunstroke, epilepsy, rheumatic fever, spinal meningitis, heart problem etc. The good period during the age of 19 to 36 suffers during the age of 37 to 42, health problems – difficulties – litigation during the age of 46 to 62. Very fortunate at the age of 21,28 and 35. Accident through the vehicle or the age of 66,.5,13,28 and 48 are the inauspicious years I live. If you feel your career is not spearheading success and growth, ask for best guidance and detailed solutions designed to empower your career growth.