Saturn Transit Report for your Finance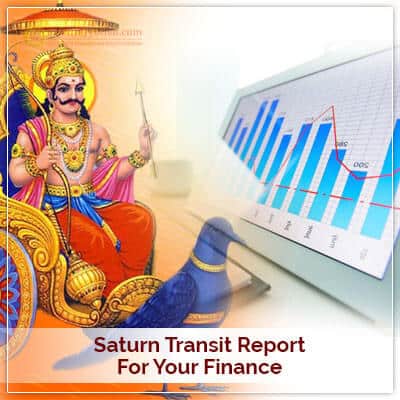 Get Your Financial Solutions Devoid Of Malefic Saturn Influence
Saturn Transit Report For Finance is prepared by our expert astrologer on the basis of proper analysis of your birth chart with respect to the current movement of Saturn. Any unfavourable transit of Saturn may lead you to losses and take you in debts, thus, helping you with unfavourable acts and making your favourable act more prosperous, we offer this report to prepare strategy for your financial planning and Financial Problem Solution along with apt remedies.
Important Information About Saturn Transit Report for your Finance
Service Name: Saturn Transit Report for your Finance, Service Type: Astrological Guidance and Solution, Language: English, Service Mode: Online (By e-mail only), Delivery: 5 Days, Features: Guaranteed solutions, Reliable services, Extensive results and best standard format of PavitraJyotish (YOUR REPORT WILL CONTAIN – Read it below), Benefits: It helps you setting short and long term goals with solution of your personal problems positively.
Why Saturn Transit Report for your Finance?
To help you with your finances and increase your bank balance or savings, the Saturn Transit Report For Your Finance looks good for you, it incorporates all essential & valuable information during the current Saturn movement with respect to your finances so that the perfect remedial measures can be followed to negate any ill effects of malefic combination of future.
How Does It Work?
1. Share your birth details and ask your queries/problems.
2. Make the payment.
3. We will send an email for reconfirmation of your birth details through your registered email id.
4. After confirmation, within next 5 working days, we will provide detailed report as per our standard format and reply to your specific questions (Your Report Will Contain – Read it below).
5. You will receive your personalized report at your registered email id.
6. Read your report, and feel free to contact us via e-mail if you feel like having any doubt. We will respond you shortly by reverting your e-mail.
See the results of success and happiness in your life with our wide variety of astrological services, including Rahu Ketu Transit Report for your Marriage, Personalized Transit Report of Jupiter Guru, Jupiter Transit Report for your Career, Jupiter Transit Report for your Business.
Info
Delivery : 5 Days
Get your manually analysed and Hand-Written report by expert Astrologer.
What Saturn Transit Report for your Finance Will Contain?
1. Astrological Details of your Horoscope chart (i.e. Complete basic information, Ascendant, Rashi, Nakshatra, Placement of Planets, Dasha & Antardasha).
2. Response to your question.
3. Saturn transit results as per your chart: General.
4. Saturn transit Impact on your Finance life.
5. Lucky measures to benefit to you (Lucky number, days, metal, time, direction and gemstone).
6. Mantra and Puja Remedies.
7. Lucky Yantra and Rudraksha.
8. Important tips to make situations easier for you.

Benefits Of Saturn Transit Report for your Finance
1. You get enough time to plan your activities in advance well enough.
2. The report lets you know when to press throttle to accelerate pace of progress on financial front.
3. The report also lets you know when to hold fire and maintain status quo.
4. You know in advance whether it is time to pour more money to increase inflow of money for you or to take loan.
5. You also know whether it is good time to look for new avenue to push ahead your prospects on financial front.

Hear From Our Customers
Astrologer Umesh provides accurate and timely solutions based on his practical experience. His remedies have proven very helpful to me. His advice on different spheres like education, professional life and other fields are very effective. He is very patient and explains things in great detail. The gem stones he suggests are also very effective and bear results. Would suggest those seeking astrological advice and solutions should visit him once.
Anurag, Gurgaon NCR
Due to Saturn transit in my Kundli, things were not in order in my life. I experienced of greater magnitude. There were times when opportunities for growth were nil. Sometimes I drove to depression and did mistakes only to repent later. Point is it was really 'turmoil' like situation in my life. The name of astrologer Umesh Ji was recommended by a relative. I visited his office in South Delhi for a thorough analysis of my Kundali. It was the time when Pandit Ji was interacting with another client. So I was made to sit in his reception room which was neatly furnished. Arrangement of newspaper and magazines also caught my attention and appreciated their presence. When my turn came, I faced the astrologer who bore quite a dignified personality. Composed and disciplined, he asked for my problems. In nearly 60 minutes of interaction, I was pacified with all the answers I was looking for. He prepared Saturn transit report for my finance at a decent price. Great service, great professionalism, and sheer level of integrity Thanks a lot, Pandit Ji for your valuable suggestions.
Mamta Rawat, Himanchal