Rahu-Ketu Transit Report for your Love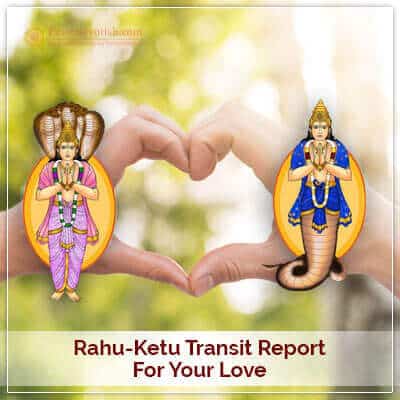 In Vedic astrology, Rahu-Ketu is positioned adjacent to the place considered as the originating point of the eclipse. Since there is no presence of other planets nearby, Rahu and Ketu manifest no physical visibility, as a result. It takes them nearly 18 months to traverse through a zodiac and often follows the retrograde pattern of moving.
Rahu planet makes you long for materialistic possession in life, while Ketu leads to spirituality, isolation, and salvation.
Rahu Ketu transit report for your love holds utmost significance, in light of the fact that it helps you understand if the transit of both the planets is in favourable or unfavourable condition with resulting impacts of either on your love life. Remedial measures for your problems will also be offered based on in-depth analysis of Rahu Ketu effects in your marriage as per your horoscope chart by our renowned astrologer, Pt. Umesh Chandra Pant Ji.
Info
Delivery : 5 Days
Get your manually analysed and Hand-Written report by expert Astrologer.
Customer Care
If you have any confusion or need further clarification please contact our customer care.
Call +91-95821 92381 and 011-49901368
Your Report Will Contain:
1. Astrological Details of your Horoscope chart
2. Astrological analysis of your situation
3. Response to your question
4. How to make use of this report
5. Lucky measures to benefit to you (Lucky number, days, metal, time, direction and gemstone)
Impact on your Love life
6. How much favorable or unfavorable is transit of Rahu in Gemini and Ketu in Sagittarius.
7. Whether this is to help in pushing ahead your prospects on finding your souls mate.
Special observations
8. Some notable developments are mentioned.
9. Mantra and Puja Remedies
10. Accurate remedial measures for your problems (Lucky Yantra and Rudraksha)
11. Important tips to make situations easier for you

Benefits of this report:
1. The report also lets you know right time to look for your soul mate.
2. You know well about the person you want to get in love relationship.
3. The report lets you know to when to take relationship to next level.

Testimonials:
Rahu Ketu transit in my Kundali was creating malefic effects, causing me suffer a lot of things uncalled for. Consultation to Umesh Ji in this regard had helped me in a great way. He helped me rid of my issues and provided me some astro remedial measures in the report. My apprehension for my love life no longer remained a cause of concern, thanks a lot to Pandit Ji for his timely support.
Kavita Dhyani, Uttrakhand
Pandit Umeshji has been a great support to us. His advice was quite helpful. He is a man of high integrity. He was very patient and kind enough to be available whenever his advise was required. His easy remedies gave positive results. Thanks & Regards.
Surbhi Luthra, Abu Dhabi