Aquarius Weekly Horoscope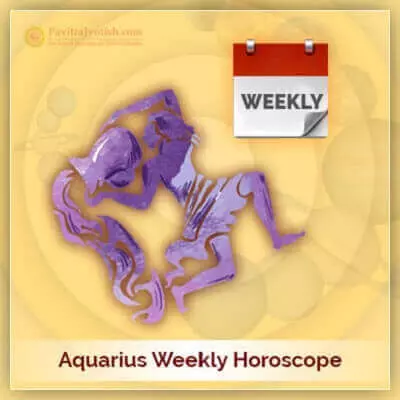 Get Aquarius Weekly Horoscope Predictions
Know about Aquarius Weekly Horoscope Prediction (Born Between January 21 – February 18)
Aquarius Weekly Horoscope is your week-wise prediction that helps you how to manage your weekly activities with greater scope for success. Aquarius Weekly Astrology predictions help you manage your weekly priorities by suggesting you best remedial course of action.
Aquarius Weekly Astrology Prediction for 25 September 2023 to 1 October 2023
25 September 2023 to 1 October 2023: In the first phase of the week, Aquarians would do wonders in your business and job sectors with your constant efforts and creativity. If you are providing temporary services in an organization, your period would be suitably extended. If you are in an organization, you will be able to manage and execute the job and business tasks in an efficient manner. During the second phase of the week, you will witness many exciting opportunities for financial investments. You will have an excellent time with respect to adding comforts to your family. Mutual bonding and affection will prevail in your love life. You will motivate your children towards a path to better future. You would be very happy the way things would shape up in your relationships. You may travel overseas during the end phase of the week. You will find this weekend to be profitable for investment matters. There are indications of ups and downs in the health aspects. Overall, the weekend will be somewhat complicated when compared to the rest of the week. Want to dealt with your personal issue with solid astro solution? Choose our astrological guidance and break free yourself from personal issues.