Astrological Analysis About Israel
Date : November 1, 2017
|
Author : Astrologer Pt Umesh Chandra Pant
Introduction About Israel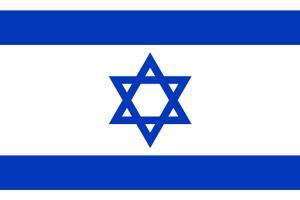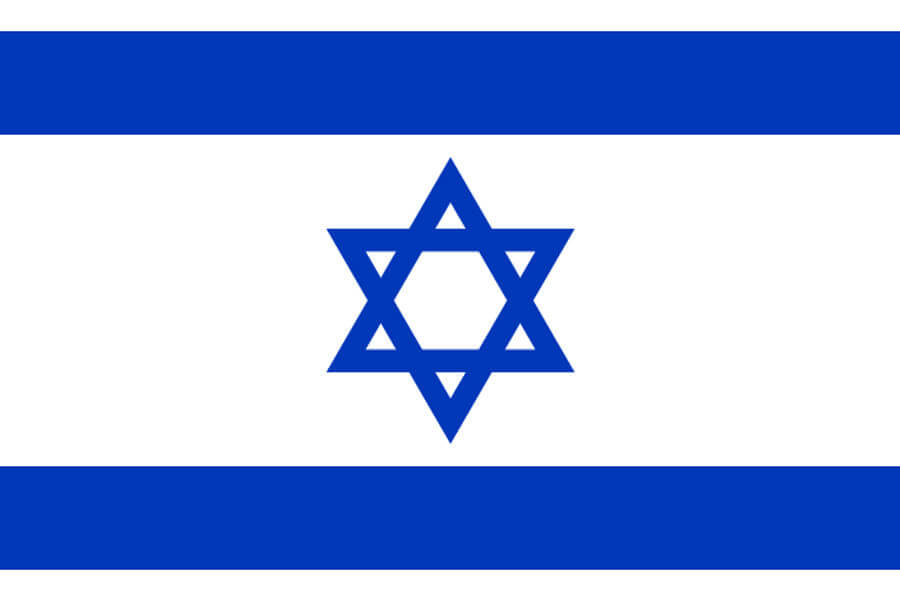 Israel is located in the Middle East, along with the eastern coastline of the Mediterranean Sea, bordered by Lebanon, Syria, Jordan, and Egypt. It lies at the junction of three continents: Europe, Asia, and Africa. Long and narrow in shape, the country is about 290 miles (470 km.) in length and 85 miles (135 km.) in width at its widest point.
Although small in size, Israel has the varied topographical features of an entire continent, ranging from forested highlands and fertile green valleys to mountainous deserts and from the coastal plain to the semitropical Jordan Valley and the Dead Sea, the lowest point on earth. Approximately half of the country's land area is semi-arid.
The rich variety of Israel's plant and animal life reveals its geographical location as well as its varied topography and climate. Over 500 kinds of birds, some 200 mammal and reptile species, and 2,600 plant types (150 of which are endemic to Israel) are found within its borders. Over 150 nature reserves and 65 national parks, encompassing nearly 400 square miles (almost 1,000 sq. km.) have been established throughout the country. For the prompt answer to your worries have a telephonic consultation with our expert Astrologer.
In this land of Jewish people, its cultural, national and religious identity was formed; here, its physical presence has been maintained unbroken throughout the centuries, even after the majority was forced into exile. With the establishment of the State of Israel in 1948, Jewish independence came into its full existence. Surrounded by hostile neighborhood, it has to remain alert, on toes to protect its boundaries. After forming the state of Israel, the country went for rapid growth. New technologies were involved to increase agricultural production. People of the country worked hard to enhance its military and weaponry power to a great extent. Shortage of water has made them work for maximum utilization and in turn, developed technology to suit requirement.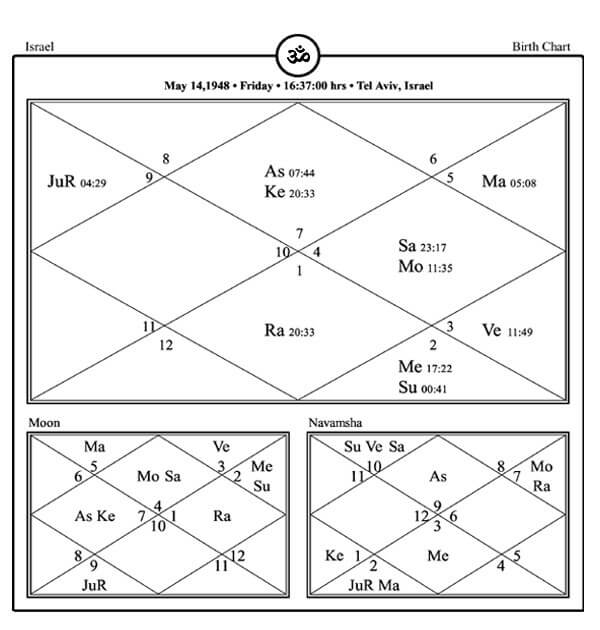 Astrological Highlights
Rising star on eastern horizon meaning the Ascendant is that cultured; open to new ideas, airy sign Libra.
Ruler of the Ascendant is in Gemini and posited in the ninth house.
Ruler of the ninth house Mercury is an earth sign Taurus along with Sun and stationed in the eighth house.
Here Venus and Mercury are exchanging signs.
Jupiter is retrograde in own sign, last of fire sign Sagittarius and moves through the third house. Jupiter is in direct opposition to Venus stationed in the ninth house.
Saturn is measured as the most favorable planet for Libra Ascendant. Saturn is a water sign Cancer along with Moon (Rules Cancer) and placed in the tenth house.
Mars is a fire sign Leo and moves through the eleventh house. Jupiter has an eye over Mars.
Israel is currently under the influence of sub-period of Jupiter in the major period of Mars till 30th December 2017. The sub period of Saturn in the major period of Mars rules till February 8th

Major Transits in near future
From 12th September Jupiter enters air sign Libra and moves through the first house till October 11th
Jupiter then enters fix natured water sign Scorpio measured as much passion in the second house.
Jupiter enters last of fire sign Sagittarius from 29th March 2019. Jupiter enters Scorpio in retrograde mode from 23rd April 2019. On becoming direct Jupiter again makes move in Sagittarius from 5th November 2019 and moves through the third house.
Saturn makes move into that dual natured last of fire sign Sagittarius from 26th October 2017. Saturn moves in own sign last of earth sign Capricorn from 24th January 2020.
Shadow planets Rahu and Ketu currently traverse through Cancer and Capricorn respectively and passes through the 10/4 house axis till 7th March 2019.
Rahu-Ketu then moves in Gemini and Sagittarius respectively and traverse through 3/9 house axis till 23rd September 2020.
From around May to end of October 2018 Mars transits in its sign of exaltation Capricorn and moves through the fourth house, in direct opposition to Natal Moon and Saturn placed in the tenth house. Mars here also views its own natal position in the eleventh house in the natal chart.
From around August 2018 ruler of the Ascendant Venus traverses therein till the end of the year 2018.
Astrological inferences
Moon and Saturn in the tenth house provide great strength to prove self.
Venus in the ninth house and exchanging sign with Mercury indicates divine gift, blessings for its existence.
Movement of Jupiter through the Ascendant is to work well for growth. Also acceptance level of its cause stands to increase.
Some important deals with other countries are to prove fruitful.
From around May to end of October 2018 Israel may take action to prove its military and weaponry strength.
Around last quarter of the year 2018, some betterment of the country and its citizens is envisaged.
Movement of Saturn in Sagittarius through the third house may lead to new equations in the relationship with neighboring countries.
Israel is to be in discomfort about foreign policy during the year 2018 -19.
Israel is to have difficulty in increasing industrial production. This is likely to prove a challenging task.
The year 2019 is likely to see the major change in its relationship with the neighboring country.
In coming times, Israel is to take measures to increase its clout in global politics.
Fix an appointment with Chief Astrologer Pt Umesh to get solutions to your problems.