Rahul Gandhi Horoscope
Published On : May 22, 2019
|
Author : Astrologer Pt Umesh Chandra Pant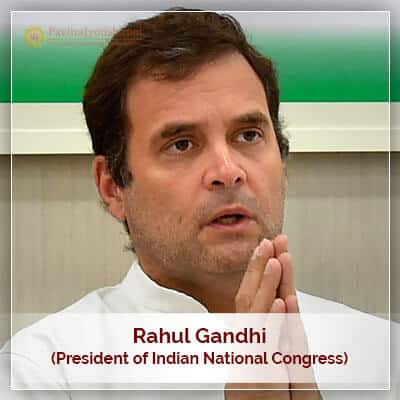 Comprehensive Astrological Analysis On Rahul Gandhi
Introduction of Rahul Gandhi
Rahul Gandhi, President of Indian National Congress is a noted politician in India known for being a descendant of Nehru-Gandhi family whose political influence and dominance all over Indian politics was pervasive since the time the country got freedom in the year 1947.
Family and Personal Background of Rahul Gandhi
Rahul was born on 19 June 1970 in Delhi to the family of Rajiv Gandhi and Sonia Gandhi, both the parents having a political association that was influential nationwide. His father was the Prime Minister of India while mother was the president of the Indian National Congress. He is the grandson to the former late Prime Minister Indira Gandhi and a great-grandson to the first PM of India, Jawaharlal Nehru. He is also an elder brother to Priyanka Gandhi and a brother-in-law to Robert Vadra (husband of Priyanka Gandhi). Rahul has proclaimed his identity as a Hindu Brahmin.
Early Life
He did his preliminary education at The Doon School in Dehradun from 1981 to 1983 until he and his sister both were home-schooled in the aftermath of the assassination of Indira Gandhi and subsequent threats posed to them from certain extremists. He obtained his graduation degree from Rollins College in Florida and did his M.Phil from Trinity College, Cambridge in 1995. Raul Vinci was the pseudonym that he kept due to security concerns while pursuing his academic course in America.
Political career
Raul commenced his entry to Indian political in the year 2004 by declaring to contest for 2004 Lok Sabha Election from Amethi electoral constituency that was his father's home turf, politically. Rahul's announcement then took political experts by surprise in whose opinions Priyanka Gandhi would have fared better in politics than Rahul. In contrast to the speculations, Rahul was more confident in being a part of Indian politics and in an interview to a foreign media; he censored the divisive politics in India and affirmed that he would try to placate religious and caste tensions in the country. Rahul held the position as a general secretary of the All India Congress Committee on 24 September 2007 and was given the charge of the Indian Youth Congress (IYC) and the National Students Union of India. To uphold his promise about reforming youth politics in India, Rahul interviewed and handpicked 40 think-tanks for the IYC, a move that dramatically favored the party with the increasing growth of its members up to 2.5 million. Rahul won his Amethi seat during Lok Sabha election of 2009 and did his best in the revival of the Congress in Uttar Pradesh.
During the General Election of 2014, Rahul contested from his Amethi constituency against the BJP candidate Smriti Irani and defeated her by the vote margin of 107,000. However, his leadership could not save the Congress party from facing the biggest electoral fiasco against BJP and ended up with just 59 seats versus 262 seats that the Congress had obtained in the previous general election of 2009. Rahul, due to his certain political unawareness and unpreparedness, had courted mockery that became his pet peeves in public. He also accused the government in the center as "suit-boot kisarkar", referring to a monogrammed suit of PM Narendra Modi that he wore during Republic Day meeting with Barack Obama. He also mocked government with his twisted slogan "acche din kisarkar" implying the failure of the central government on different levels, according to Rahul. He also devised quite a pejorative slogan against Modi-government by highlighting the Rafale fighter jet deal all throughout the electoral campaigns in the recently concluded general election of 2019. He advocates women empowerment and supports women's reservation bill in the Lok Sabha and state legislative assembly seats. He welcomed abolishment of Section 377 of the Indian Penal Code and the decriminalization of homosexuality in India.
One of the most popular politicians in India, Rahul Gandhi is known for his political astuteness and candid expressions on the issues that matter for the general public and the country. He has earned spotlight for putting his thoughts across to the civilians and tried hard to come out of his former image of being a novice leader to a matured and intelligent statesman of the country.
Birth Details of Rahul Gandhi are as per given below:
Date of Birth: June 19, 1970, Birth Day: Friday, Birth Time: 14:28:00, Birth Place: Delhi, India
Astrological Analysis of Rahul Gandhi
Astrological Details of Kundli: Rahul Gandhi was born with Libra ascendant and the ascendant Lord Venus is placed in the 10th house in a friendly sign. In the chart, Yogakaraka Saturn is debilitated, Mars is combusted and Jupiter is retrograde. Jupiter gets directional strength in the chart due to its placement in the 1st house or ascendant. Natal Moon is placed in Sagittarius in the constellation of Moola. He is undergoing second or 'noon phase' or 'high-tide point' of Saturn's Sade-Sati. He is passing through incendiary Rahu major period and sub period of Rahu ruling till end of 2021. Rahu is placed in the 5th house in its own constellation. Rahu is aspect by functional malefic Jupiter in his horoscope. Jupiter is transiting through the 2nd house from the ascendant and 12th house from the natal Moon Sagittarius. Saturn is passing over his natal Moon and transiting through the 3rd house from the ascendant in Libra. Malefic nodes Rahu and Ketu are passing through 9th and 3rd house axis and it is the Gemini and Sagittarius.
Impact of Ascendant: People with Libra rising tend to be charming, refined, attractive in some manner, gracious, appealing, indecisive, cooperative, sociable, creative, artistic, perhaps musically inclined, harmonious, and wanting to please and not make waves. They may "need" the company of others and hate to be by herself or himself. They are apt to try too hard to please others and compromise their own principles in order to be liked or to be popular. Yet they can also be very self-centered. They have a difficult time saying "no". They cannot stand disorder and disharmony and want everything to be balanced, poised, and harmonious.
Impact of the Moon Sign: Sagittarius, the Centaur, is half-human, half-animal and this is perhaps the way people born with this lunar sign are. You have great aspirations, yet may have a most unruly desire nature. One can shoot for the stars or wallow with the animals. One may lack concentration. One probably have many acquaintances, but few friends. One tend to have casual contacts rather than in-depth relationships. One has a great restlessness and a love to be on the move. They may always be looking for greener pastures, never stopping or slowing down to see where they really are and what's around them.

Strength/ Yogas in Horoscope Chart:
Chandr-Mangala Yoga: Moon is conjunct Mars (or they exchange mutual aspects). The person deals with drinks, earthen jars, crude instruments and women. There is disobedience to the mother. This is a combination for good earnings and accumulation of wealth, although the means to achieve these ends may not necessarily be legitimateor be appealing to the base-needs of men, unless this configuration achieves an aspect from Guru.
Ubhayachari Yoga. Any planets, other than Moon, occupy the 2nd and the 12th house from Sun. The person has a strong physique, equal to a king, capable of shouldering great responsibility, great learning, balanced outlook, wealthy, handsome and blessed with numerous objects of pleasure. This is particularly the results if benefics form this Yoga.
Viparita Vimala Raja Yoga: The 12th lord is in the 6th, 8th or 12th house (Phala Deepika 6/69). This makes the person virtuous and contented. The person will be equipped with good behaviour towards others, will enjoy happiness, will be independent, following a respectable profession or conduct, and will be known for good qualities.
Nicha-Bhanga Raja Yoga: The exaltation lord of the debilitated planet is in a Kendra from Lagna. This Yoga indicates cancellation of the state of debilitation of a planet and yielding benefic results instead, being elevated to a Raja Yoga status.
Jupiter in the ascendant or 1st house: According to your birth chart planet Jupiter is placed in the 1st house of your horoscope. The position of planet Jupiter in the 1st house indicates lot of materialistic wealth and prosperity. You will have a wonderful and fortunate life. You will not have to worry about your children, since they will be obedient and responsible. You will have a dignified bearing and people will like you for your good nature. Your actions and gestures will make a great difference in the lives of your near ones. You have the ability to influence others with your optimistic, jovial, dignified and broad-minded personality.
Parvata Yoga: Benefic planets occupying the Kendras, and 6th and 8th houses either vacant or occupied by benefics only. The person is renowned, illustrious, fortunate, wealthy, an orator, charitable, leader of a town or a city, learned and very lustful. 
General Analysis of Horoscope Chart
The transit of Rahu and Ketu over the natal Moon, Mars and Sun indicates various difficulties and Rahu and Ketu are transiting through the 9th and 5th house axis and it may affect the initiative and decision can also backfire. Efforts may prove to be futile. Mental pressures will be created negatively. Mr. Gandhi will have to spend many sleepless nights. He may sometimes look hapless and helpless. He will be the cynosure of attention and butt of people's opinion. The transit of Jupiter indicates higher chances of expenses and travel to various places. There will be apprehension related to political future due to the negative transit of Saturn and Ketu over his natal Moon. He may have to confront many secret adversaries outside and within his party. His leadership will be questioned by many people. People may turn cynical about his leadership quality. In short, he will be under intense pressure to deliver goods on behalf of his party. The transit of Rahu may cause traveling which may not bring him good luck as Rahu is transiting through the 9th house of destiny of his horoscope.
Analysis of Current General Election 2019
We have witnessed the just concluded 17th Lok Sabha election and election had been conducted in seven phases across India. It is moot question whether Mr. Rahul Gandhi can replace his arch-rival Mr. Narendra Modi to become the Prime Minister although his Congress party has not formally and officially announced prime ministerial candidate if congress comes into power in Delhi and form the next government. It looks improbable as well as impossible for him to topple Mr. Modi from his position. Although he may be able to leverage a few vote swing in the favour of his political party however it will be herculean task for him to obtain clear mandate and become the single largest party. There is no doubt that Congress under his leadership will do well in a few states and also can increase the overall seats i.e. tally in Lok Shabha however it will be uphill task for him as well as his party to dislodge Mr. Modi from his current position in the firmament of Indian polity. Astrologically his chances vis-à-vis general election looks feeble. It will require to upset the applecart which looks mostly impossible considering the planetary transit and return which he is passing through. He will have to stomach many criticisms and backbiting within his party if he fails to deliver. It can be said that India is not yet ready to see the youngest Prime Minister rather common Indians are set to repose their faith in the astute leadership and strong ability of Mr. Modi.
Read more Articles: About Priyanka Gandhi Vadra Horoscope and About Sonia Gandhi Horoscope